Two trailers directed by David Hinds, in homage to film director Jean Rollin.
Family friendly version:
Uncut version — contains violence and nudity:
Music: Deathtripping. Song title: Requiem For a Vampire (For Jean Rollin). Taken from the album: Deathdream (I-Exist Recordings)
---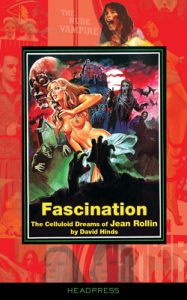 Want to know more? Pick up a copy of Fascination: The Celluloid Dreams Of Jean Rollin by David Hinds. Available in paperback and a limited special edition hardback.
A journey into the fantastique world of the blood, erotica and lesbian vampires of "outsider" filmmaker Jean Rollin.