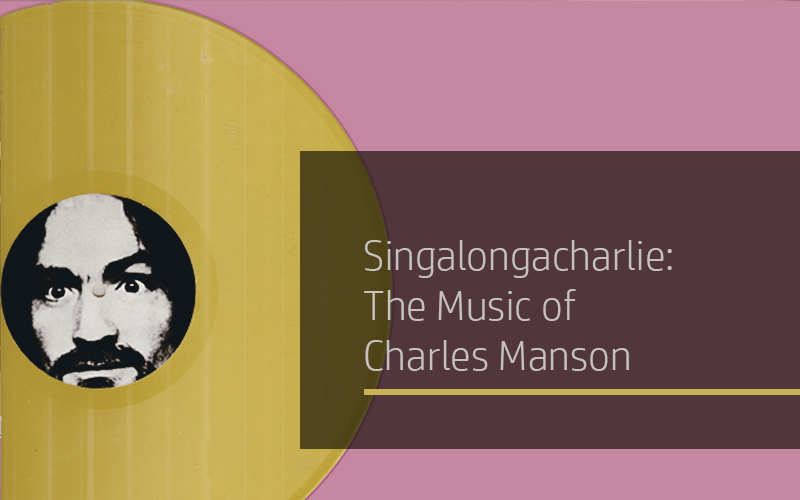 05
Apr
Singalongacharlie: The Music of Charles Manson
LIE (1970)
ESP-Disk/Awareness ESP 2003
I got some music that says what I like to say if I ever had anything to say
from the sleeve notes to LIE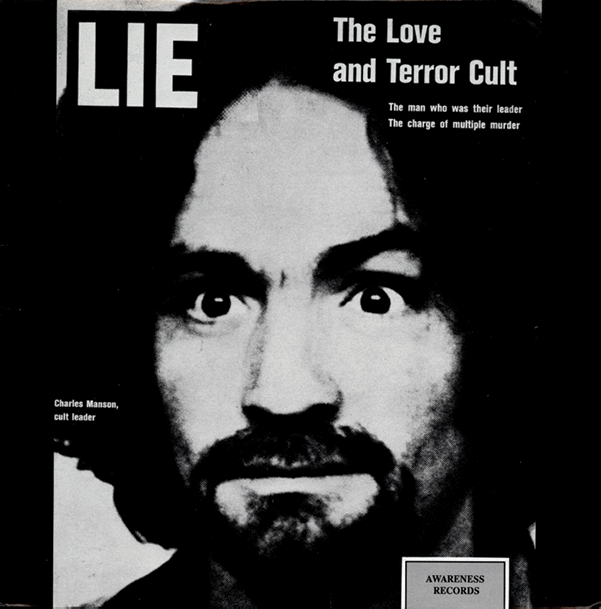 LIE was recorded in Sound City studios, Van Nuys exactly one year before the date of the Tate-La Bianca killings. The recording were initially issued by Phil Kaufman and of the original 2,000 copies, by 1972 less than 300 had been sold. Kaufman's record label was called Awareness a reference to Manson's claim that he held special powers of perception: "I look into the future like an Indian on a trail." The cover image is now legendary and features a police photograph of Manson that was taken in 1968 when he was arrested on an auto theft charge. The 'mad' hypnotic stare was to become the defining image of Manson, an image as loaded as Albert Korda's portrait of 'Che' Guevara, a man capable of the same hypnotic power. Free ads for the LP ran in many underground and countercultural newspapers of the time. Profits from Kaufman's issue of the record were said to be in support of Manson's legal defence; now they supposedly go to his victims.
In these recordings we hear what Jakobson noted was Manson's "early form of Rap". A percussive beat on the guitar is overlayed with a free flow of consciousness, thoughts and expressions located in both the internal space and via external manifestations (flies buzzing, his shoes, someone passing by). Manson plays his songs here to relay his philosophy. Manson was accompanied by Paul Watkins and Bobby Beausoleil. Some of the more complex electric guitar lines belonged to the latter.
Beausoleil once observed that "Charlie doesn't have a whole lot of talent" and Dennis Wilson observed that "Charlie did not have a musical bone in his body". This is the myth that has grown up around Manson and his music and one can hear from this recording that this is wrong.
Look At Your Game Girl has a plaintive opening with strummed single chords. "Time keeps on flying" mourns Manson and in this moment you can feel how his charisma hypnotized so many. Anyone listening closely this song will feel this transference of energy and motion. Manson said of Ego: "Ego is the man, the male image" and this song is clearly a denunciation of the male psyche. "You can't stand not be right" and "Ego is a too much thing" sings Manson. The backing on this track is a strong blend of congas and sitar, augmented with improvised violin (Manson's violinist was usually Catherin Share, aka Gypsy) and occasional blasts from a hunting horn. The unusual blend of instruments is reminiscent of early Incredible String Band. Mechanical Man is a song about people versus the machine, a common countercultural scenario. It is also about how humans become machines and recalls Charles Watson's description of how he felt during the murders: "I felt like a mechanical man, a programmed machine out of control, like a malfunctioned robot unable to stop the brutality." It begins with imitations of mechanical sounds and a spoken-word section. The song becomes a powerful drone and recalls early Velvet Underground. Female voices cut in and out; one of them wails in despair. The music becomes more frantic and chaotic. The autobiographical line "I am my mother's toy" draws on Manson's childhood years of neglect. The theme of the song later inspired the musical and lyrical preoccupations of the new wave band Devo who like Manson hailed from Ohio. People Say I'm No Good reflects Manson's own feelings of rejection. It begins as a mournful cry with sparse accompaniment from his nylon-stringed guitar. But soon it becomes more strident and the internal pain and frustration becomes defiantly anti-establishment, against conformity, casting blame outwards: "Look at the fix they're in…the young might be so dumb after all." This section of the song is very percussive with a strong bongo rhythm. The poetic flourish ends with the spoken phrase "cancer of the mind". Home is Where You're Happy proclaims the peace brought about from the creation of a true 'family as opposed to the official nuclear version that many of Manson's followers suffered terribly under. "You'll never be alone" is the positive alternative vibe sent out. There are more Sterling Morrison-inflected guitar lines in Arkansas and on this track female vocals are prominent, breathy at the beginning, spoken, decrying 'struggle' before Manson interjects with the song proper. I'll Never Say Never to Always is interesting in that the ambience of Family musical get-togethers can be clearly discerned. There are babies crying in the background and the whole effect, a good snapshot of the communal experience of the Family, is of a Sunday school choir reciting an ode to spiritual joy. Garbage Dump reveals Manson's long-standing eco-concerns: "You can feed the world with my garbage dump," a belief that was realised in the infamous family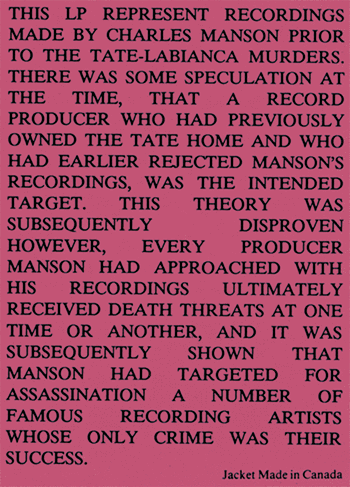 'garbage runs' to collect cast off food from supermarket bins (still a common eco-warrior practice). Manson's sense of humour is manifest at the end. Don't Do Anything Illegal has the feel of an Eastern drone — another clichéd character of 1960s music, augmented by fine electric guitar work courtesy of Beausoleil. "The eagle has got you by the neck" sings Manson, a clear indictment of American state oppression. Sick City castigates those that "sit at home and drink your beer." With Cease To Exist the most famous song on LIE, it is clear why the Beach Boys were keen to record it. Dennis Wilson changed the lyrics lifting the line "Never learn not to love you" as the new title — an act that infuriated Manson (Manson: "Dennis Wilson was killed by my shadow because he took my music and didn't pay me and changed the words from my soul, sound songs"). The version that appeared on the Beach Boys recordings uses the common 1960s technique of time shifts (4/4 to 3/4 time) and begins with an eerie swell of discordant noise (a tape run backwards) before launching into the more familiar harmonies of the group. "Submission is a gift" intones the dark aesthetics of countercultural drug philosophy. For Manson, the meaning of the words as they come out of your mouth is the truth. It should not be altered – especially for some crass commercial purposes. In Cease To Exist Manson relates his philosophy as outlined in the following quote: "You are not you, you are just a reflection, you are reflections of everything that you think that you know, everything you have been taught." Big Iron Door is a dark portrait of incarceration in American prisons, again switching time signatures from slow to fast and intense. The minor key and discordant chord changes add to the feel of disorientation. I Once Knew A Man begins with Spanish guitar inflections and frantic conga/maraca support. One can imagine this song ringing out across the desert, a freak-out cri de cour. As if to underline the commercial potential of Manson's compositions, the final track on LIE, Eyes Of A Dreamer, has lovely acoustic guitar lines and gallops along in a style closely resembling a Walker Brothers tune.
The general consensus about LIE (and indeed all of Manson's music) seems to be 'Well, I've heard worse'. But LIE clearly demonstrated why Manson led the musical activities of the Family. While other Family members are noted to be 'better' musicians (Beausoleil, Share, Grogan), listening to this collection of songs, it is clear that Manson had by far the richest voice and a unique style that mere technical efficiency cannot attain. He made effective use of his "total energy". Ed Sanders is not the only one who believed that Manson "could have been a big star".
NEXT: The '67 Sessions and Live at San Quentin