A lot of good music falls into the cracks. Some of it becomes landfill, never to be heard of again, and some of it gets found. The first releases on Rise Above Relics, a new subsidiary of the always entertaining Rise Above Records, is the story of musical excavation. Cycle and Barnabus are two British rock bands from the early 1970s that never made the grade. Each had a devoted local following and regular support stints to some notable acts that visited the area (Northeast England and the West Midlands, respectively), plus favourable coverage in the likes of Melody Maker. But while everything seemed to point to bigger and greater things, suddenly, as so often happens, nothing happened. Cosmic Clouds and Beginning to Unwind, two albums recorded by Cycle and Barnabus almost fifty years ago, have remained commercially unavailable until now.
It's interesting to hear the concerns of the day manifest in the music. Barnabus' Beginning to Unwind opens with America, the West Side Story track famously appropriated by The Nice. It's perhaps not the most auspicious start to an album, but one that establishes the ideology that runs through this one. Barnabus pull out the stops for their own anthemic interpretation, with a lyric that turns the original on its head in dealing with the slave trade. These lads from the West Midlands had their sights set beyond the factories that otherwise awaited them. Gas Rise (a song about gasometers) is fragile and resilient. What starts as a ballad, not unlike a Joni Mitchell song, picks up to reveal a more considered aspect to the music. There is a flavour of the Edgar Broughton Band and Black Sabbath in Barnabus, not surprising given their geographic proximity. The eponymous Beginning To Unwind also uses light and shade and is evidence of a band that aspires to make its own way, when so easily it could have hammered out a bunch of heavy covers. Another case in point is Resolute, a tome of a tune, made more distinctive by a guitar sound not so much dirty as it is mired in filth. Meanwhile Apocalypse has a screeching guitar opening that sounds exactly like the one that opens The Fall's Sparta F.C., which surely must be a coincidence?…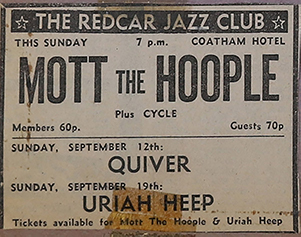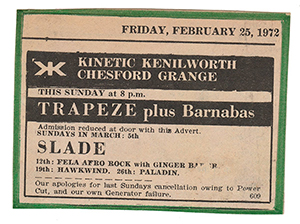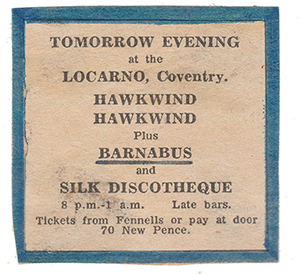 Cycle were in a similar position to Barnabus in that they had amassed a strong local following but were otherwise unknown outside of their own stomping ground, in this case Middlesbrough and its environs. In the booklet that accompanies Cycle's Cosmic Clouds, Austin Matthews talks logistics.
[su_quote]In today's world of modern motorways and instant communications, the 250 miles from Middlesbrough to London doesn't seem like a great distance, but back in the early '70s for a band with day jobs and just an old transit van to get around it was a world away.[/su_quote]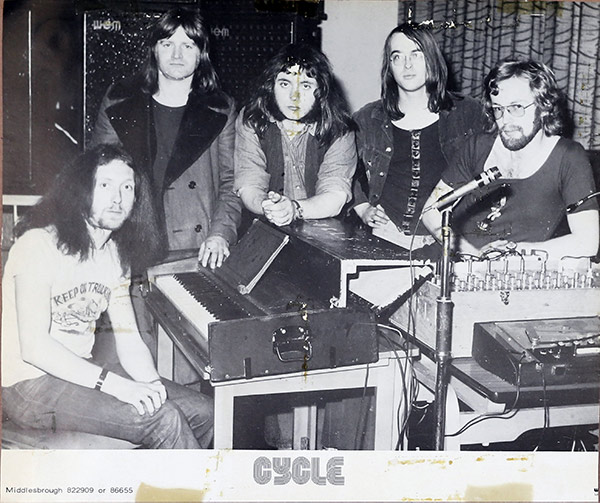 It's a patten familiar to many provincial bands of the era, located miles from the capital. Sometimes it hardly mattered, thanks to the Mersey Scene of the early sixties, when many things Northern were considered 'happening'. By the seventies those days had gone. Cycle recorded two albums. The first, in 1971, was a private pressing of 100 copies. The second, in 1973, Cosmic Sounds, was self-financed and hitherto unreleased. Rich Man, Poor Man, Pig kicks things off to a stomping start. In The Beginning, Father Of Time and Over The Top continue in much the same vein, chunks of beat laden riffs. (I fancy I hear a xylophone in the latter; perhaps the 'cosmic' element of the album's title.) Of the two bands, I would argue that Cycle are the less musically brutalist. And yet what is one to make of a track like Mr Future? It starts as a catchy and otherwise unassuming slow number but is then besieged by a guitar riff that is borderline psychotic. It tears up the high notes and leaves the listener to wonder what the heck just happened. Play Mr Future many times, as I have, and at no point will you become comfortable with it. But that's often the way with bands like Cycle and Barnabus, hairy misfits of a British musical heritage almost lost to time. Apparently, it took Rise Above ten years to pull these two albums together, remastered with the inclusion of demos and each with its own lavish forty-page booklet. They are a perfect fit for a label dedicated to underground rock and folk, sort of the spiritual forefathers of stablemates Admiral Sir Cloudesley Shovell, Witchcraft, Guido et al. God bless the old dawn that is the new dawn.