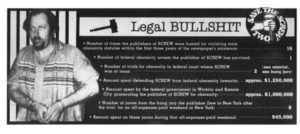 Why is this the most hated man in American? The Al Goldstein Story has it all…
SLEAZE!
TWISTED INDEFENSIBLE HUMOUR!
SCATHING BLISTERING ATTACKS ON INNOCENT PEOPLE!
A TOUR THROUGH THE KINKY DARK CORNERS OF POPULAR CULTURE!
SHOCKING PHOTOS!
GUEST APPEARENCES BY ALL-AMERICAN ECCENTRICS LIKE GRAMPA MUNSTER, MYRON FASS and LARRY FLYNT!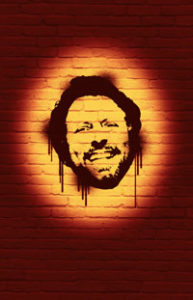 To the counterculture of the 1960s Al Goldstein was a freedom-of-speech warrior, while to right wing fanatics in Middle America he was a NYC Jew porn monster. He was the hate object of choice for feminists in the 1970s and 1980s, and to his employees at Screw magazine he was the most erratic and insufferable boss on the planet. To fellow travellers in the porn industry he was the dirty old uncle who passes out drunk at your kid´s birthday party—pathetic and embarrassing but also given to bursts of courageous intellect and wisdom in sober moments. A pioneer that everybody in some measure owes their livelihood to, but nobody wants to be seated with.
Along the way we witness the birth of the underground press in the 1960s, porn chic in the 1970s and the rise and fall of his home turf, Times Square, as the sleaziest square mile on the planet. We survive the sex wars of the Reagan 1980s and look on as the Goldstein empire crumbles to dust in the new millennium, while the man himself is swallowed up by the very world he made possible.
Divulged for the first time, in Jack Stevenson's unauthorised Al Goldstein biography Beneath Contempt and Happy to Be There:
HOW GOLDSTEIN CREATED THE SUCCESS OF DEEP THROAT!
HOW SCREW MAGAZINE FUNCTIONED AS THE LITERARY NEXUS BETWEEN HIPPY EXCESS AND PUNK NIHILISM!
HOW THE MOST HATED MAN IN AMERICA BECAME THE LONELIEST AND LAST REBEL!
---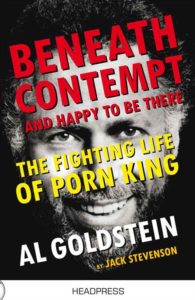 Want to know more? Check out Beneath Contempt and Happy to Be There: The Fighting Life of Porn King Al Goldstein by Jack Stevenson.
The incredible life of Al Goldstein, an overweight cab driver and carny barker who became the most outspoken leader of America's sexual revolution, is captured in this unauthorized biography in all its X-rated glory.