I began writing film reviews in 1981 in a self-made fanzine titled STINK, which ran for ten years. The fanzine had over 200 subscribers worldwide and I sold quite a few in NY/NJ record and magazine shops. Following this, I wrote the column 'Suburban Grindhouse Memories' from 2010-2018 for the website CINEMA KNIFE FIGHT. Compiling these columns in book form seemed like a natural thing to do.
Locating the people to interview for this book was easier than I expected, although getting Lydia Cornell's time was a challenge. This is the ONLY time she has ever spoken publicly about her role in the film BLOOD TIDE.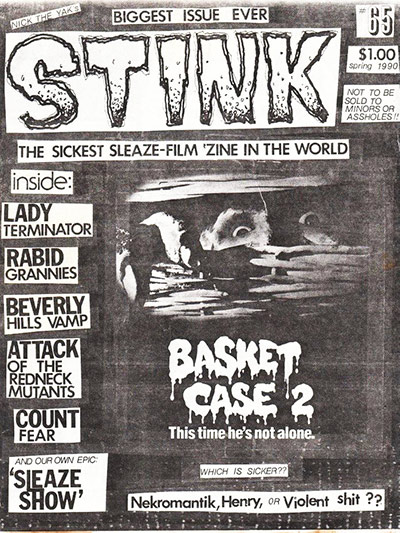 The term GRINDHOUSE should bring two things to mind:
Sleazy theaters located in shady parts of the city where films were shown so often they eventually grinded down to scratchy, worn looking prints, and
Cheap exploitation films (or B-movies as they're commonly called).
Grindhouses existed almost everywhere and weren't exclusive to big cities. Even in respectful small towns you could usually find at least one theater which happened to show one film that wasn't part of the mainstream, and while they might not have shown the film enough to grind it to dust, they still featured fare seldom seen outside of big cities. And in the late 70s/early 80s here in New York's smallest, most conservative borough (Staten Island), we actually had a few genuine grindhouses.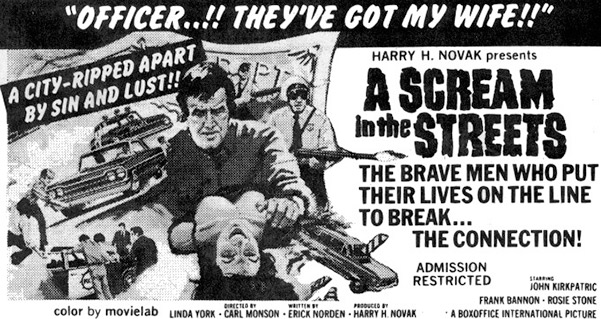 In this (hopefully) entertaining book, I'm going to take you back to a time when you could see unusual, uncut films in a theater on any given day; a time when you could see something like ZOMBIE ISLAND MASSACRE in theater No. 2, while AMADEUS played next door in theater No. 1. And while suburban grindhouses might not have been as scary an experience as urban grindhouses (and I've been to both countless times), most of the films I saw at these theaters usually featured at least one or two delinquents causing problems in the audience, as well as outside the theater, before or after the film (and these experiences often helped shape your opinion of the film itself). "Audience participation" was not limited to THE ROCKY HORROR PICTURE SHOW (just ask anyone who saw PINK FLAMINGOS or THE HARDER THEY COME at a midnight screenings several years before ROCKY HORROR had even been released).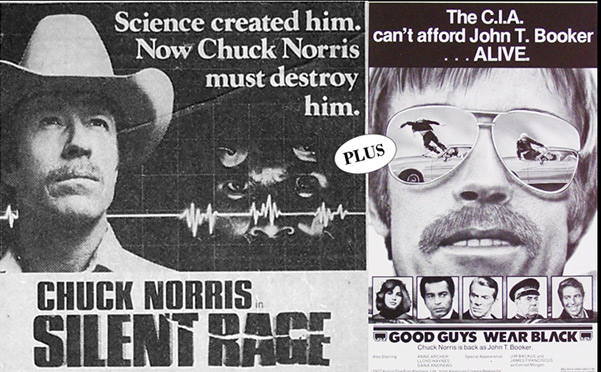 While I'm a big fan of DVDs and Blu-Rays (especially with all the nifty extras), there's just NO substitute for seeing a good, trashy B-movie in a theater … and the trashier the venue, the better (although after you read my interview with director Frank Hennenlotter, you might question that).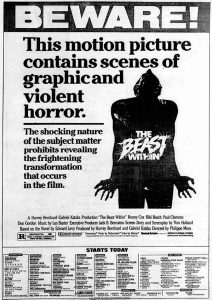 Maybe you were there at the time and had similar experiences as the ones shared in this book. Or maybe you're a younger reader who hasn't been to a film outside of a multiplex and can't understand what the big deal is about theaters of the past. Whatever your case, chances are you wouldn't be reading this if you weren't a little bit interested in genre films. It was my goal in writing this column for the CINEMA KNIFE FIGHT website to give a little taste of what it was like to see these types of films in a setting that actually enhanced the viewing experience (sometimes for better, sometimes for worse, but mostly for the better in my case). Films and film-going were just more fun before the advent of cable TV and the home video revolution (let alone Netflix and other streaming services). If you can't see that by the time you get to the end of this book, perhaps The Man has truly infected your brain…
Please be aware, as you read through my hectic memories, that most of these reviews were written between 2010-2015, so mentions of certain films being available only on DVD may have changed when they were upgraded to Blu-Ray a year or two after these columns first appeared.