I intended to write a book review this week, having picked up a copy of Simon May's The Power of Cute, which explores the proliferation of 'cuteness' in modern culture. Taking in everything from Hello Kitty and Mickey Mouse, to Jeff Koons, to, erm, Donald Trump, May attempts to pin down exactly what cute is:
Instead of being just about sweet, cuddly, vulnerable qualities that we see in people and things, it is, above all, about what happens when the Sweet (which is soft, harmless, innocent, artlessly charming, unencumbered by complexity, and usually small) gets uncanny, indeterminate — such as between child and adult, masculine and feminine, nonhuman and human, familiar and unfamiliar, powerless and powerful, unknowing and knowing — and even monstrous. But, crucially, in a light-hearted and often frivolous register.
May charts the increase of cute in line with the increased value placed upon childhood, on the up from the 19th century and experiencing a sharp upturn after WWII. Japan is prominent in May's account, where cute really took hold in the 1970s and continues to reign supreme today. In 2009, for instance, the Japanese Ministry of Foreign Affairs appointed three Trend Communicators of Japanese Pop Culture, or 'kawaii ambassadors'. The job of Misako Aoki, Yu Kimura, and Shizuka Fujioka was to represent Japanese pop culture across the globe, from Lolita fashion to manga cosplay.
Reading May's book, I was reminded of some other cute girls who were big in Japan: Shampoo, the British pop duo whose single 'Trouble' thrust them into the UK charts in 1994. When 'Trouble' was released, I hated it with a passion. I was a moody early teen slowly covering my bedroom walls with posters of Brett Anderson, and Shampoo seemed like a celebration of everything I disliked. Many years later, though, I can't help but admire the spirit of Shampoo. With their heart-shaped shades, peroxide blonde hair, and fuck you attitude, they were like a sunnier version of Jack Off Jill, a kind of Tank Girl meets Barbie Girl.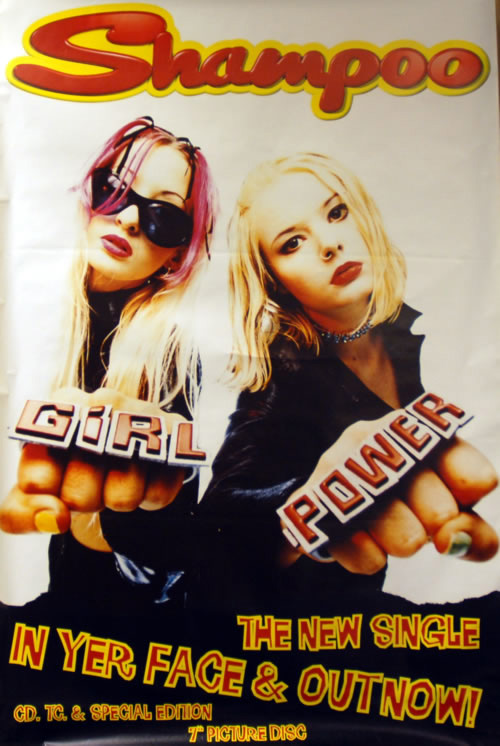 Shampoo's Jacqui Blake and Carrie Askew came out of the indie scene of the 1990s. They produced a Manic Street Preachers fanzine, Last Exit, before appearing in the video for 'Little Baby Nothing'. By their own account, they fell into the music game almost by accident. They couldn't write songs, they couldn't play instruments, and they didn't so much sing as shout at the audience. In the video for 'Bouffant Headbutt' Jacqui and Carrie pout for the camera in fluffy coats and sunglasses as they spit out "When we get you outside/You're fucking dead!" (surely a perfect iteration of teenage girls' sensibilities). The duo's own version of 'girl power' — in contrast to the later tween-friendly rendering of the Spice Girls — was about playing with guns and knives and smashing the place up.
In their melding of 'glamour and mundanity, spite and sweetness, clever manipulation and dumb naivety', Shampoo are perhaps the epitome of May's Janus-faced version of cute. Their contradictory nature seemed to confuse the music press. When they did appear in the NME or Melody Maker there was an air of apology about it, and as interviewers talked about these two 'insurrectionists' 'ram-raiding' the charts there was a definite sense that they really weren't supposed to be there. Shampoo became more familiar (albeit fleeting) faces in pop-oriented magazines like Smash Hits, where they got schoolgirl-ishly giddy about boy bands and offered interviewers sweets from their Barbie handbags.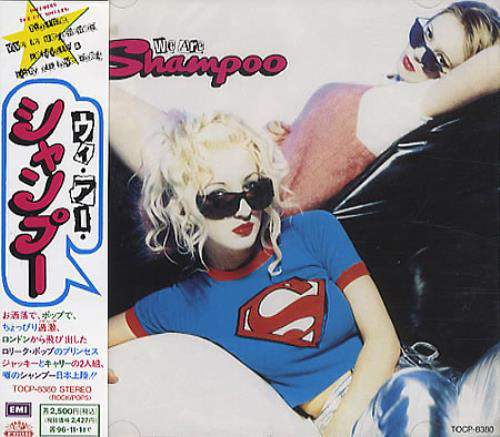 Shampoo's out-of-placeness (a bubblegum pop aesthetic pasted haphazardly over a punk rock sensibility) was both their best and worst selling point. Their cynical, couldn't-care-less, ripostes to the nineties music industry and the creeping commercialization of indie alienated almost everyone, and now I love them for it. Sure, they couldn't sing or play anything, but they were abrasive and subversive in a more imaginative way than many who've come after them with that explicit intention. I'm not sure I'd want Shampoo to stage a reunion, but the lyrics to 'Shampoo's Cupboard', for one, could be ripe for a cover by Sleaford Mods…
Here's some things from our cupboard
Memories from the young Shampoo girls
Here's some things we remember
Here's some things that we used to know, yeah
Itchy beard, itchy chin
Jimmy Hill, skill
Double Dutch, Game and Watch, Top Trumps, Speak and Spell
Deely Boppers, Space Hoppers, school bean bags, cheapo strap on roller skates
Batwing jumpers, bodywarmers
Disclosing tablets, toothache and braces
Thanks to cola cubes, space dust and Pacers