Tower Transmissions V promised to be a major 2015 highlight for fans of power electronics, death industrial, and dark ambient. Below, Richard Stevenson—contributor to Headpress title Fight Your Own War: Power Electronics and Noise Culture and editor of Noise Receptor journal—recounts some memorable moments.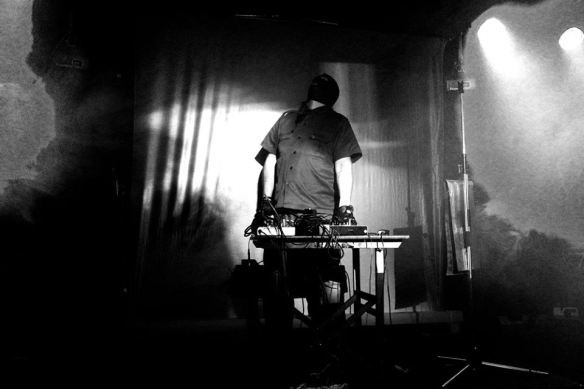 For me Clinic of Torture were one of the Friday night highlights. The man behind Clinic of Torture, Mikko Aspa, was clad in a leather S&M mask, standing behind a small table of equipment and some contact mic'ed sheet metal. Coupled with a backing video and a heavy wall of smoke, Mikko slowly coaxed out his industrial noise: louder, sharper and higher pitched 'needling' textures gradually building up to a harsher segment. He became more animated and deranged as the set progressed, 'torturing' the piece towards a sonic climax which abruptly cut off to raucous applause.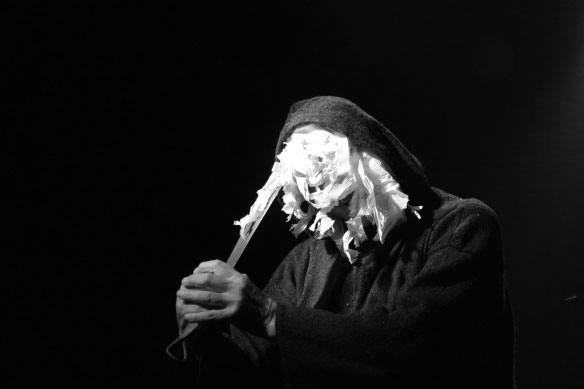 The supposedly 'legendary' C.O. Casper was not to my liking as it was some form of Dadaist nonsense: goofy performance art-styled improvised experimental music. On the stage were two individuals: one sitting at a table of effects equipment, the other (Casper) dressed up like a medieval monk with his face wrapped in gauze. Casper spent the performance yelling unintelligible vocals, beating on a floor tom drum, dancing around the stage, cutting off the face gauze with a machete, and playing homemade noise instruments, while the second member delivered a scattered experimental noise backing. Although the music and performance was far from my personal tastes, bearing in mind that Casper is 79 years of age it is commendable that he is still recording and performing, regardless of the end result.

Puce Mary
On Saturday evening, I was just in time to catch the opening act Puce Mary (solo project of Frederikke Hoffmeirer), easily the youngest performer of the festival. I had quite high expectations seeing Puce Mary live for the first time, and evidently so did many other festival attendees as the room was full for her show. Frederikke surpassed all expectations, delivering an absolute standout performance. With her no-frills approach (no props or backing video, just a table with a Korg synth and associated equipment), she delivered a devastating set of clinically-tinged industrial noise. Meticulous precision and control, tracks built to tensile peaks before detonating bass-toned explosions, stalking the stage to deliver a harrowing vocal barrage. Her performance was totally on point and set a very high mark.

Bizarre Uproar
Bizarre Uproar delivered a hammeringly intense set of slow churning noise filth, all set to an appropriately grim video backdrop, including the infamous video associated with track 'Kusi Paska Veri'. Pasi, wearing a latex mask, was assisted by Pekka in a pig mask. The first section of the set was left up to Pasi, building the noise from a large table of distortion pedals and other equipment whilst Pekka stood on stage, unmoving, arms folded. As the set intensified, Pekka played a 44 gallon drum with a contact mic, as Pasi cut an imposing and aggressive figure on stage, sweat pouring out of the nose and mouth of the latex mask.
(For Richard's full review of Tower Transmissions V and other dispatches, please visit his journal Noise Receptor.)