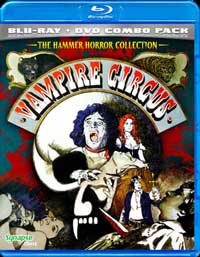 Vampire Circus. Dir. Robert Young (UK 1972 / 87 minutes). Blu-Ray, Synapse Films
Count Mitterhaus, vampire, is staked in the heart and in his dying breath puts a curse on the villagers responsible. Sometime later (possibly fifteen years), the plague arrives and the village is cordoned off to the outside world by armed guards. Mysteriously, a circus appears and suddenly the children of the village are disappearing as the count avenges himself from beyond the grave…
Vampire Circus is one of Hammer's more compelling films. The conceit is lovely and the atmosphere rich and dark. Director Robert Young adheres to Hammer's gothic motifs but brings to them some surreal and arresting elements. These include a circus and its motley group of performers; the pre-credit abduction and loss of a little girl to Count Mitterhaus and the castle; and the notion that time may well not exist for this small village, whose outskirts are patrolled by (unseen) armed guards preventing exit or entrance. Also arresting are the vampire teeth, being of a particularly vicious length hitherto unseen in the annals of vampire cinema. It's as if, in these teeth, there is manifest the altogether sinister connotations implicit in vampire lore and Young's treatment of it: The undead of Hammer films are summarised by Christopher Lee as Dracula, a dashing figure around whom women swoon. By contrast, the teeth of Vampire Circus suggests raging monsters of bloodlust and perversity, inclined more to the unspeakable than to the buxom maidens of their forbearers.
If you haven't yet seen Vampire Circus, this is the time to do it. It looks great in high definition (some commentators have complained about how dark it looks, but I've only ever seen it on the box before now). And if you have already seen it, you might care to see it again because Synapse have dug up the export print which carries more gore and extra nudity, from all accounts a print unavailable since the Japanese Vampire Circus laserdisc was deleted years ago.
Part of Synapse's fledgling Hammer Horror Collection, this release comes with both Blu-Ray and DVD formats of the film, plus extras, including a making-of documentary and author Philip Nutman's nostalgic look back at House of Hammer/Halls of Horror, the wonderful British film magazine that superseded the now legendary Monster Mag, and regularly featured comic strip adaptations of classic Hammer movies.
In another extra, Tim Lucas of Video Watchdog discusses the original Japanese laserdisc of Vampire Circus. He points out that the Japanese reticence to show pubic hair resulted in a black blob being placed over part of a nude Domini Blythe, making it look as if the actress had a huge, comically hairy muff. There are no cheap laughs in this version under review, however, and Ms Blythe's muff remains untouched.