In 1958 the NHS was just 10 years old, and Britain was still recovering from the social and economic effects of the Second World War. At the same time, there was an air of optimism in medicine and a drive for progress: several teaching hospitals were set up, new techniques and technologies were being refined, and specialisms such as cardiology were rapidly expanding.
Behind the Mask, directed by Brian Desmond Hurst (A Christmas Carol), was based on John Rowan Wilson's 1955 novel The Pack. The book's title is nicely suggestive of the main themes: elitism, arrogance, and a fight for professional survival. All of these are evident in Behind the Mask from the outset. The opening scenes take place in the foyer and committee rooms of the Royal College of Surgeons in London, where Philip Selwood (Tony Britton) undertakes his examination for College Fellowship – an accolade that will be a significant feather in his professional cap.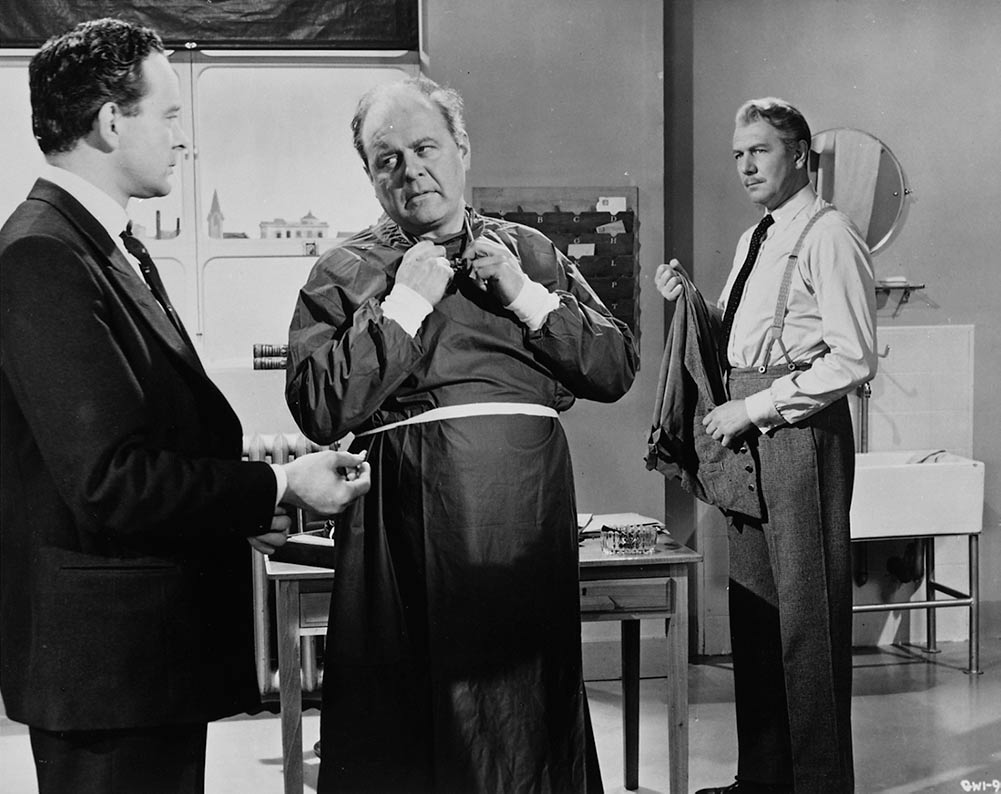 His Fellowship awarded (announced with great ceremony on the College staircase), Philip is quickly shoehorned into Royal Hospital Graftondale as a registrar, where his girlfriend's father just happens to be senior surgeon. The male-dominated medical team reflects a broader contemporary picture: in 1948–49 there were just under 3,000 women medical students compared with around 10,000 men. The fictional Graftondale is not beset by gender tensions, however – unless you count the Carry On-esque swooning of the nurses when glimpsing their new registrar. Rather, the overwhelming atmosphere is one of resentment, as a battle between old and new approaches to medicine is waged within the hospital. This tension is personified by senior surgeon Sir Arthur Benson Gray (Michael Redgrave) and fellow surgeon Neil Isherwood (Niall MacGinnis). Whilst Gray is keen to remind the staff that patients are 'human beings', Isherwood and his clique are apt to view patients as 'test tubes' and the hospital as a 'laboratory'.
It's an interesting set-up, and a well-informed one as far as the history of medicine goes, but the film never quite hits its stride. The basic background of nepotism and competition is padded out with two sub-plots: the romance between Philip and his fiancée Pamela (Vanessa Redgrave in her film debut), and the suspicious behaviour of newly appointed anaesthetist Carl Romek (Carl Mӧhner). Both sub-plots have reasonable dramatic potential: Will Philip put Pamela first, or his medical career? What dark secrets lie behind Romek's debonair but troubled exterior? Neither of these is meaningfully elaborated, however, serving instead to facilitate twists in the main plot that centres on Philip.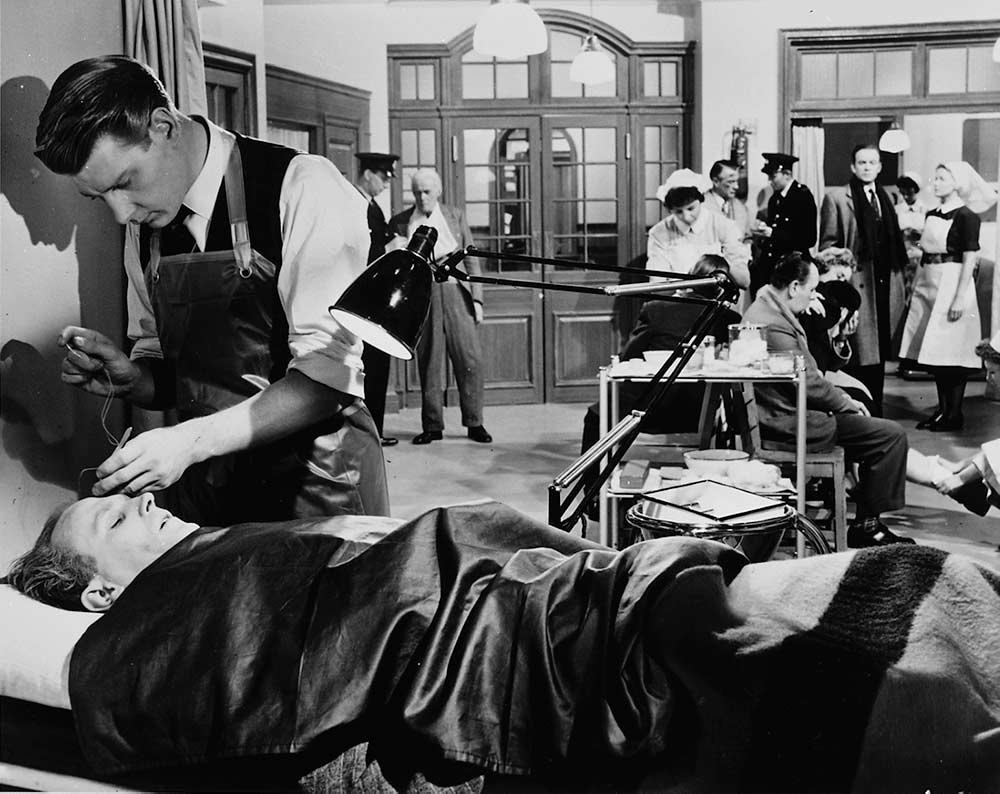 Compensating for the slightly meandering plot and stock characters, the sets are a wonderful glimpse of the aspirational mid 20th-century hospital. Upon his arrival, Philip is shown the cutting-edge technology in Graftondale's operating theatre, where a television camera broadcasts surgeries live to an audience of students and doctors in an adjacent room (many of them smoking – perhaps one of the most jarring sights throughout is the almost constant puffing away on hospital property). The surgery scene, a pivotal one in the film, makes interesting use of silence and sound to ratchet up the tension. Alongside its shiny new technologies, the hospital has a sense of homeliness with its wood panelled waiting rooms and on-site staff apartments. This recalled, for me, the hospital in Let Sleeping Corpses Lie and this, together with the slightly ethereal colour palette, lent the film a slightly uncanny quality.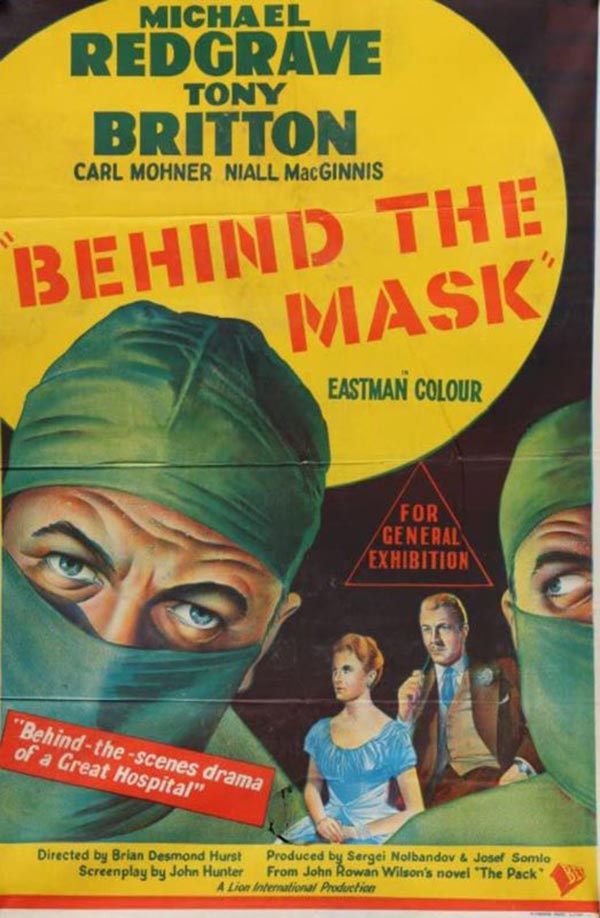 Extras on the disc include a theatrical trailer and a substantial image gallery of stills and posters from the Stephen Jones Collection. There's also an entertaining interview with John Gale, who played junior doctor John Greenwood, in which he reminisces about working with the sexually 'voracious' Hurst and goes off on a wonderful tangent about the director's specific model of Rolls-Royce. Oddly compelling.