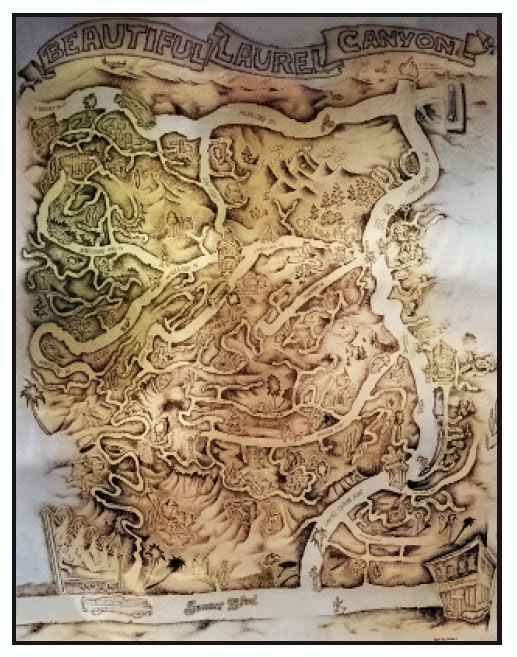 Laurel Canyon in the 1960s and early 1970s was a magical place where a dizzying array of musical artists congregated to create much of the music that provided the soundtrack to those turbulent times. Members of bands like the Byrds, the Doors, Buffalo Springfield, the Monkees, the Beach Boys, the Turtles, the Eagles, the Flying Burrito Brothers, Frank Zappa and the Mothers of Invention, Steppenwolf, CSN, Three Dog Night and Love, along with such singer/songwriters as Joni Mitchell, Judy Collins, James Taylor and Carole King, lived together and jammed together in the bucolic community nestled in the Hollywood Hills.
But there was a dark side to that scene as well. Many didn't make it out alive, and many of those deaths remain shrouded in mystery to this day. Far more integrated into the scene than most would like to admit was a guy by the name of Charles Manson, along with his murderous entourage. Also floating about the periphery were various political operatives, up-and-coming politicians and intelligence personnel — the same sort of people who gave birth to many of the rock stars populating the canyon. And all the canyon's colorful characters — rock stars, hippies, murderers and politicos — happily coexisted alongside a covert military installation.
Unlike the Haight-Ashbury scene that followed it, the Laurel Canyon music/hippy scene of the 1960s and 1970s is a story that remains largely unknown;
An account told from an entirely different perspective;
The only book that doesn't shy away from the more controversial aspects of the canyon scene.
VILLAGE OF THE DAMNED: BY WAY OF AN INTRODUCTION
There's something happening here
What it is ain't exactly clear
JOIN ME NOW, if you have the time, as we take a stroll down memory lane to a time nearly five decades ago — a time when America last had uniformed ground troops fighting a sustained and bloody battle to impose some decidedly Orwellian 'democracy' on a sovereign nation.
It is the first week of August, 1964, and U.S. warships under the command of U.S. Navy Admiral George Stephen Morrison have allegedly come under attack while patrolling Vietnam's Tonkin Gulf. This event, subsequently dubbed the 'Tonkin Gulf Incident,' will result in the immediate passing by the U.S. Congress of the obviously pre-drafted Tonkin Gulf Resolution, which will, in turn, quickly lead to America's deep immersion into the bloody Vietnam quagmire. Before it is over, well over fifty thousand American bodies — along with literally millions of Southeast Asian bodies — will litter the battlefields of Vietnam, Laos and Cambodia.
For the record, the Tonkin Gulf Incident appears to differ somewhat from other alleged provocations that have driven this country to war. This was not, as we have seen so many times before, a 'false flag' operation (which is to say, an operation that involves Uncle Sam attacking himself and then pointing an accusatory finger at someone else). It was also not, as we have also seen on more than one occasion, an attack that was quite deliberately provoked. No, what the Tonkin Gulf incident actually was, as it turns out, is an 'attack' that never took place at all. The entire incident, as has been all but officially acknowledged, was spun from whole cloth. (It is quite possible, however, that the intent was to provoke a defensive response, which could have then been cast as an unprovoked attack on U.S ships. The ships in question were on an intelligence mission and were operating in a decidedly provocative manner. It is quite possible that when Vietnamese forces failed to respond as anticipated, Uncle Sam decided to just pretend as though they had.)
Nevertheless, by early February 1965, the U.S. will — without a declaration of war and with no valid reason to wage one — begin indiscriminately bombing North Vietnam. By March of that same year, the infamous Operation Rolling Thunder will commence. Over the course of the next three-and-a-half years, millions of tons of bombs, missiles, rockets, incendiary devices and chemical warfare agents will be dumped on the people of Vietnam in what can only be described as one of the worst crimes against humanity ever perpetrated on this planet.
Also in March of 1965, the first uniformed U.S. soldier officially sets foot on Vietnamese soil (although Special Forces units masquerading as 'advisers' and 'trainers' have been there for at least four years, and likely much longer). By April 1965, fully 25,000 uniformed American kids, most still teenagers barely out of high school, are slogging through the rice paddies of Vietnam. By the end of the year, U.S. troop strength will have surged to 200,000.
Meanwhile, elsewhere in the world in those early months of 1965, a new 'scene' is just beginning to take shape in the city of Los Angeles. In a geographically and socially isolated community known as Laurel Canyon — a heavily wooded, rustic, serene, yet vaguely ominous slice of LA nestled in the hills that separate the Los Angeles basin from the San Fernando Valley — musicians, singers and songwriters suddenly begin to gather as though summoned there by some unseen Pied Piper. Within months, the 'hippie/flower child' movement is given birth there, along with the new style of music that will provide the soundtrack for the tumultuous second half of the 1960s.
An uncanny number of rock music superstars will emerge from Laurel Canyon beginning in the mid-1960s and carrying through the decade of the 1970s. The first to drop an album is the Byrds, whose biggest star will prove to be David Crosby. The band's debut effort, Mr. Tambourine Man, is released on the summer solstice of 1965. It will quickly be followed by releases from the John Phillips-led Mamas and the Papas (If You Can Believe Your Eyes and Ears, January 1966), Love with Arthur Lee (Love, May 1966), Frank Zappa and The Mothers of Invention (Freak Out, June 1966), Buffalo Springfield, featuring Stephen Stills and Neil Young (Buffalo Springfield, October 1966), and The Doors (The Doors, January 1967).
One of the earliest on the Laurel Canyon/Sunset Strip scene is Jim Morrison, the enigmatic lead singer of The Doors. Jim will quickly become one of the most iconic, controversial, critically acclaimed, and influential figures to take up residence in Laurel Canyon. Curiously enough though, the self-proclaimed "Lizard King" has another claim to fame as well, albeit one that none of his numerous chroniclers will feel is of much relevance to his career and possible untimely death: he is the son, as it turns out, of the aforementioned Admiral George Stephen Morrison.
And so it is that, even while the father is actively conspiring to fabricate an incident that will be used to massively accelerate an illegal war, the son is positioning himself to become an icon of the 'hippie'/anti-war crowd. Nothing unusual about that, I suppose. It is, you know, a small world and all. And it is not as if Jim Morrison's story is in any way unique.
[end of extract]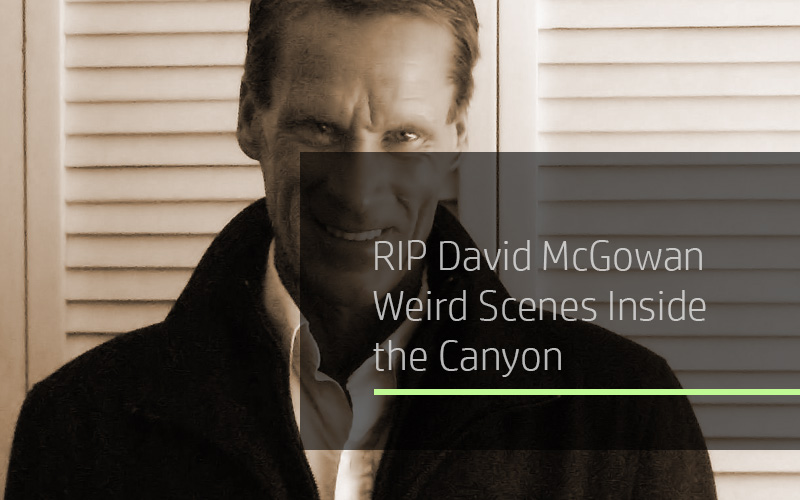 29 December 2015
RIP David McGowan
Headpress is very sad to report the news that David McGowan, author of Weird Scenes Inside the Canyon:...