Fear Street: Part One – 1994 premiered on Netflix on July 2, 2021. Directed by Leigh Janiak, it is the first of the Fear Street trilogy, based on R.L. Stine's YA novels of the same name. I was apprehensive about this, assuming it would be a darker version of Riverdale or Stranger Things, perhaps too targeted towards teens to be enjoyable. And it is teen horror if there is such a thing. However, as soon as I started watching I was captivated. It's a slasher with supernatural elements; it has a fantastic opening scene; and it pays homage to Scream (1996), The Shining (1980), and Poltergeist (1982).
Fear Street: Part One – 1994
Heather Watkins is brutally attacked by a masked killer.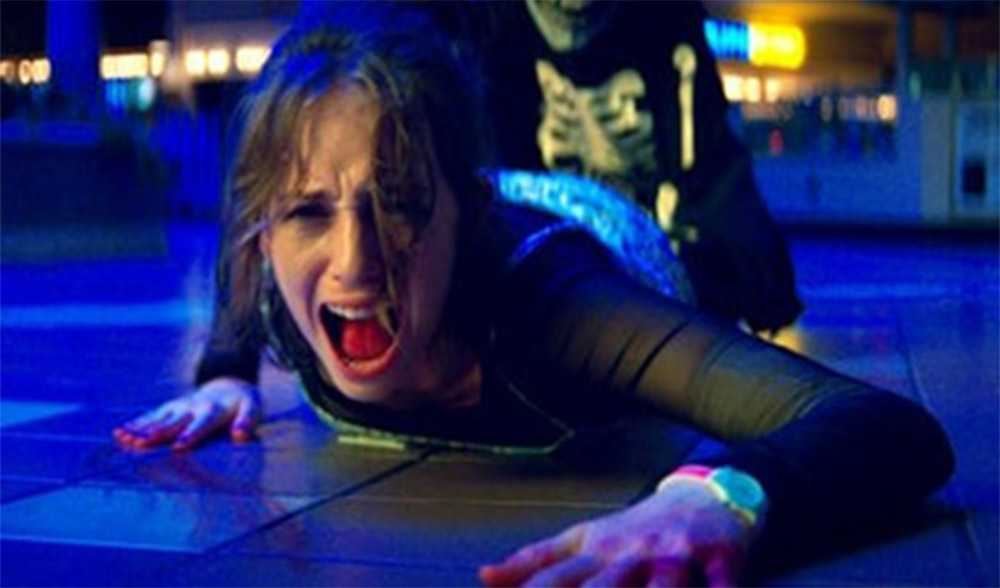 The opening scene shows Heather Watkins being attacked by a masked killer – who we soon find out is her friend and mall colleague Ryan. The sadistic slaying of Hannah is not the first murder to happen in the fictional town of Shadyside. Shadyside has been given the nickname "Killer Capital of the USA" due to its history of brutal murders. Fear Street: Part One follows angsty Shadysider Deena Johnson (Kiana Madeira) and her brother Josh (Benjamin Flores Jr.), who spends most of his time talking to a mysterious user on AOL chatrooms about the Shadyside murders. Deena's friends Katie (Julia Rehwald) and Simon (Fred Hechinger) are drug dealers, with breezily nonchalant attitudes, who both believe that the town is cursed by the so-called witch, Sarah Fier, executed in 1666 and still seeking revenge for her death. (I start to think that this "monstrous feminine" narrative is getting repetitive and bothersome – another wicked woman whose main purpose is to bring destruction and chaos…) The teenagers of Shadyside seem to be obsessed with "the witch who wants revenge", except Deena, who does not believe in the curse.
A recurring theme in Part One is Deena's bitterness towards her closeted ex-girlfriend Sam (Olivia Scott Welch) who has moved to more prestigious rival town Sunnyvale, leaving Deena behind and instead acquiring a boyfriend, Peter (Jeremy Ford). The class differences in this instalment are stark: the Shadysiders are seen as low achievers, of lower socio-economic background, prone to end up in prison, often becoming murderers or likely to be murdered themselves. The people of Sunnyvale, in contrast, are prosperous high achievers. It's reminiscent of Francis Ford Coppola's The Outsiders (1983) with the ongoing rivalry between the greasers and the socs.
Fear Street: Part One – 1994
The Greasers vs Socs brawl scene in The Outsiders (1983).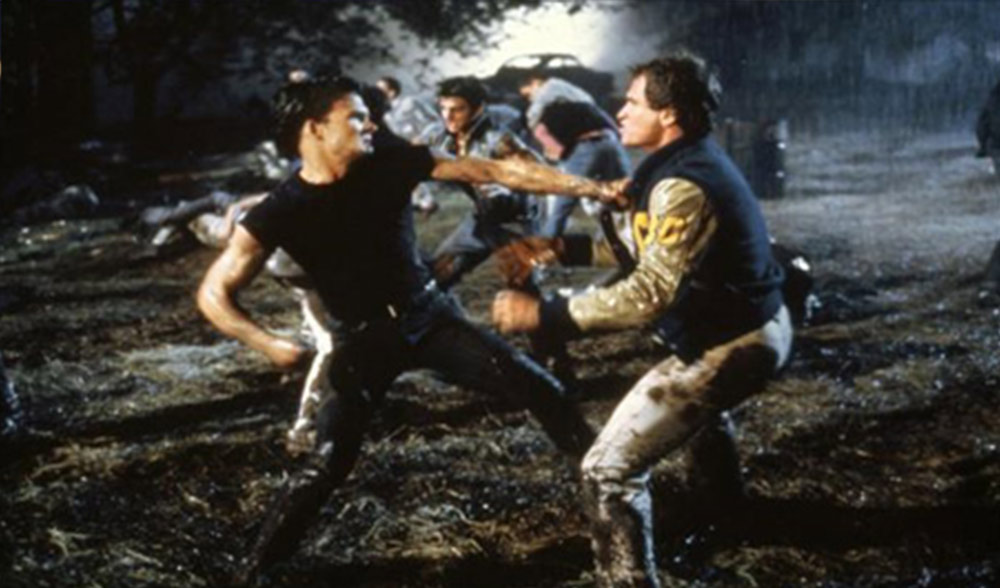 Deena was irksome at first, as she seemed very possessive of Sam, cursing her for letting her boyfriend touch her bum; more than once I wanted someone to shout at her to get a grip. However, she becomes an unexpected heroine towards the end of Part One. The Shadysiders attend a football game against Sunnyvale which leads to a brawl between the towns and an early end to the match. When the Shadysiders are on the bus home, they are chased by a group of Sunnyvalers (Sam and her boyfriend included). Deena throws a barrel out the back of the bus at the Sunnyvalers, which sends their car spiralling out of control before it crashes. Sam is badly hurt. When her blood touches the soil, she sees a vision: the witch Sarah Fier.
Fear Street: Part One – 1994
Sam sees a vision of Sarah Fier.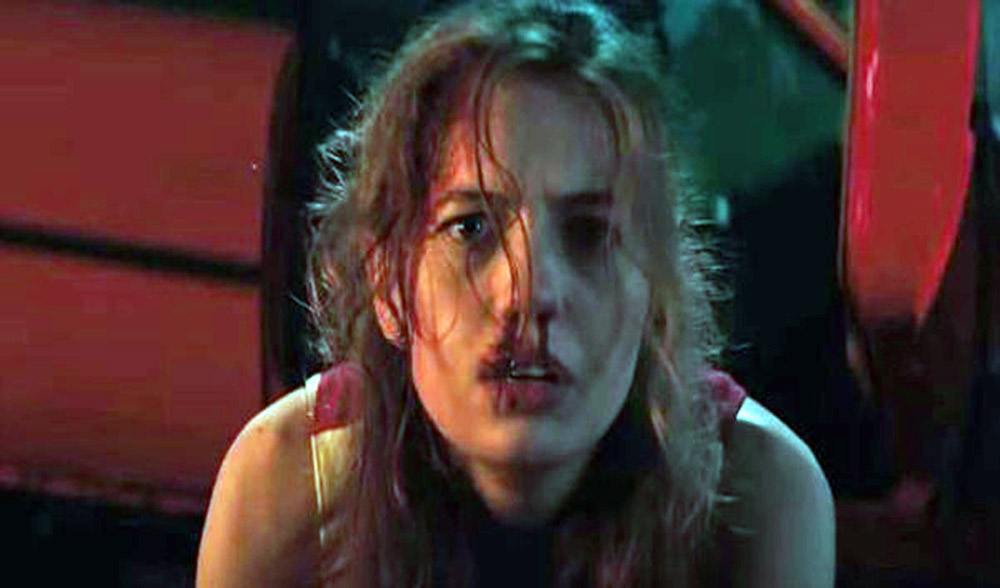 When Deena goes to visit Sam in the hospital following the crash, they are targeted by the spirits of murderers from Shadyside's past. Sam's boyfriend is killed, along with many others. At this point, I was getting irritated at the lack of care shown by the parents of Shadyside – the adults seem oblivious to the chaos around them (although this has become a laughable trope in other horrors centred around teenagers too). The teens fend for themselves. The town's Sherriff Nick Goode (Ashley Zuckerman) brushes off Deena's claims, and her parents never seem to be in the house. The teenagers have to take on the task of stopping Fier on their own. Deena, Sam, Katie, and Simon, with the help of Josh, discover that every couple of years in Shadyside, someone seemingly normal snaps and commits a terrible murder (just as Ryan kills Heather in the opening scene).
Fear Street: Part One – 1994
The group carry out their investigations.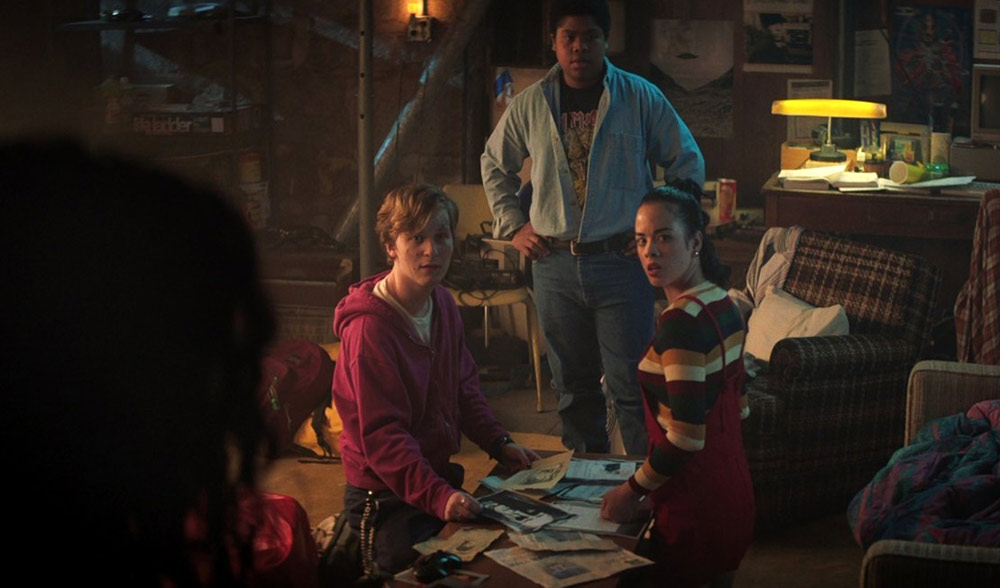 The friends believe that Sarah Fier is responsible for the people of Shadyside becoming possessed; she now wants to kill Sam for disturbing her grave, and is sending her henchmen to find her. Josh and Simon recite the poem of the 'witch's curse':
She found a way to cheat her death
Like cutting off her cursed hand
She kept her grip upon the land
She reaches from beyond the grave 
To make good men her wicked slaves
The atmosphere of the film changes slightly after the group discovers that in a massacre of 1978 at local Camp Nightwing, there was one survivor, C. Berman (Gillian Jacobs). At this point the film started to drag slightly and could have been made more concise, but I was still interested.
It's notable that this was directed by a woman; in the world of horror, female filmmakers are scarce. We need more women directors to give fresh perspectives and nuance to storylines and characters. It was also incredible to see such a diverse cast, many of the main characters being people of colour who did not play into racial stereotypes. Particularly flawlessly done was the portrayal of black boyhood with the character of Josh. Young black boys are typically demonised in the media: playing into stereotypes of being excessively angry, speaking in exaggerated slang, always in trouble with the law, and often ending up in prison. However, Josh cares mostly about his gaming and his music, and investigating the town's killings. He is intelligent and kind. It's hard to find portrayals of young black boys being unapologetically themselves, even in 2021.
Though not completely free of horror clichés, it's also a massive 1990s nostalgia trip. For me, Nine Inch Nails playing in the opening segment was a breath of fresh air, and the soundtrack in general was brilliant, including Bush, Garbage, White Town, The Prodigy and many more (the score from each Fear Street instalment is being released by Waxwork Records later this year, more details here).
Overall, Fear Street: Part One was very enjoyable, and brought slashers up to date with a modern twist. It bends the norms of a typical slasher which would have had Deena, Josh, or Sam killed off in the first act. There is a running joke amongst horror fans that teenagers who have sex are punished by being killed off first. Technically, yes, we see some rebellious teenagers die, but it is not the ones we expect. The characters who, in a traditional slasher formula, would be expected to die, survive – and that is what makes Fear Street great: its originality. I think Fear Street: Part One will introduce a new generation to watching horror as well as the slasher subgenre, which deserves to be watched more and given more critical attention.
Fear Street Part 1: 1994
2021 | 1h 47m 
Dir: Leigh Janiak
Starring: Kiana Madeira, Olivia Scott Welch, Benjamin Flores Jr.