Gaye Bykers On Acid and Crazyhead were two of Rich Deakin's favourite bands in the late 1980s, and he always said that if he wrote another book after Keep It Together! Cosmic Boogie with The Deviants and Pink Fairies it would be about the Bykers and Crazyhead. Soon after contributing an article on the 'grebo' phenomenon to Vive Le Rock! in 2012, the germ of Grebo! The Loud & Story of Gaye Bykers On Acid and Crazyhead began to take shape.
Like both bands, Deakin is originally from Leicester, growing up in the next town to where several band members lived. Over the years they have shared mutual friends and acquaintances. Had he not moved to Cheltenham with his family when he was fourteen, it's likely Deakin would have crossed paths with Gaye Bykers On Acid and Crazyhead much earlier than he did. Here he recalls the experience.
Portrait of the author as a young man. Rich Deakin, circa 1987/8.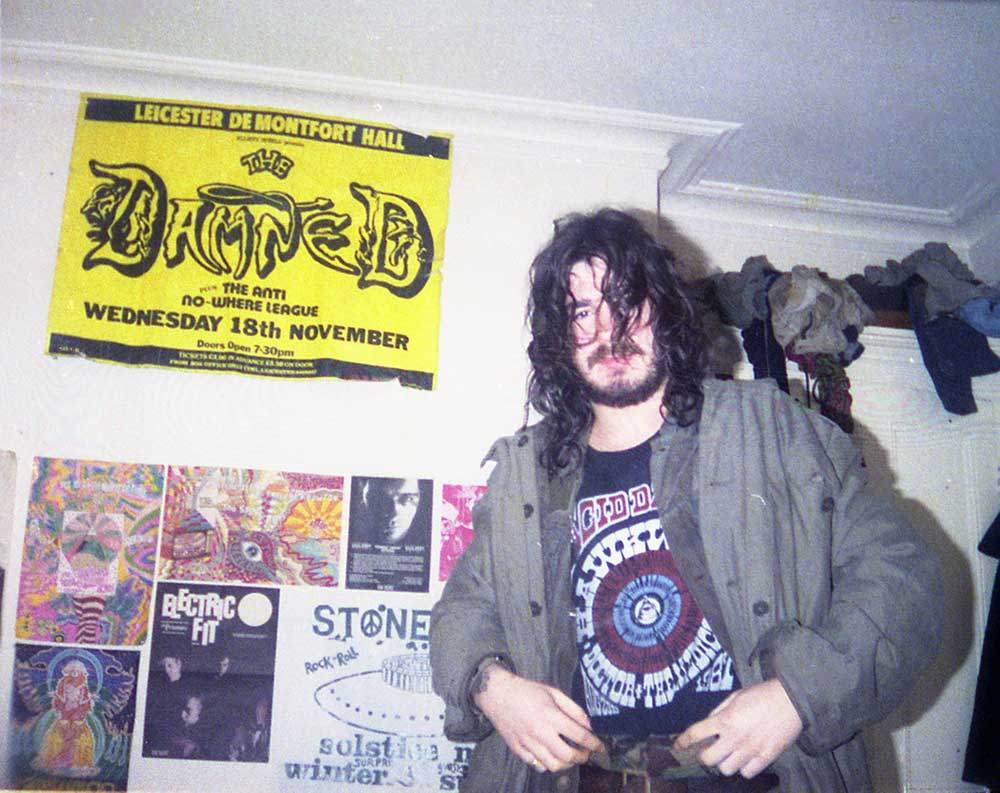 The day the world turned GREBO!
I first saw Gaye Bykers On Acid play in a cold, draughty church hall in Cheltenham. It was January 1987… They'd just started to make a splash in the British music press, thanks to some rave live reviews, and some calculated scene-making, particularly on the part of Sounds journalist, and future Loaded magazine editor, James Brown.  Having lumped them in with the so-called 'grebo' genre, along with bands like Crazyhead, Pop Will Eat Itself and Zodiac Mindwarp, Brown now says,
"I can't remember how it became a 'genre', but I did help promote it a bit because it seemed there were suddenly a clutch of bands with essentially greasy long hair and a load of noisy rock who weren't metal." 
That night in Cheltenham though, the Bykers were playing second fiddle to their mentors and fellow Leicester band, The Janitors. Their first release, Everythang's Groovy, backed by Space Rape and T.V. Cabbage, had been out for two months and was still riding high in the indie charts. The single had already seared itself into my near perma-frazzled brain, and it was obvious these droogs were earning themselves something of a reputation on the live circuit too. So, suitably soused in Breaker malt liquor and wired on cheap bathtub biker amphetamines, as was often the wont in those days, I made it my raggedy-assed speed-freak duty to see what all the fuss was about. I wasn't disappointed: the Bykers turned out to be pretty much like they were on that single, a monstrous wall of thunderous rama-lama-rifferama and wah-drenched sonic mayhem — an unholy amalgam of the MC5 and Stooges colliding head on with Jimi Hendrix meeting the Sex Pistols and Hawkwind, too, if you like!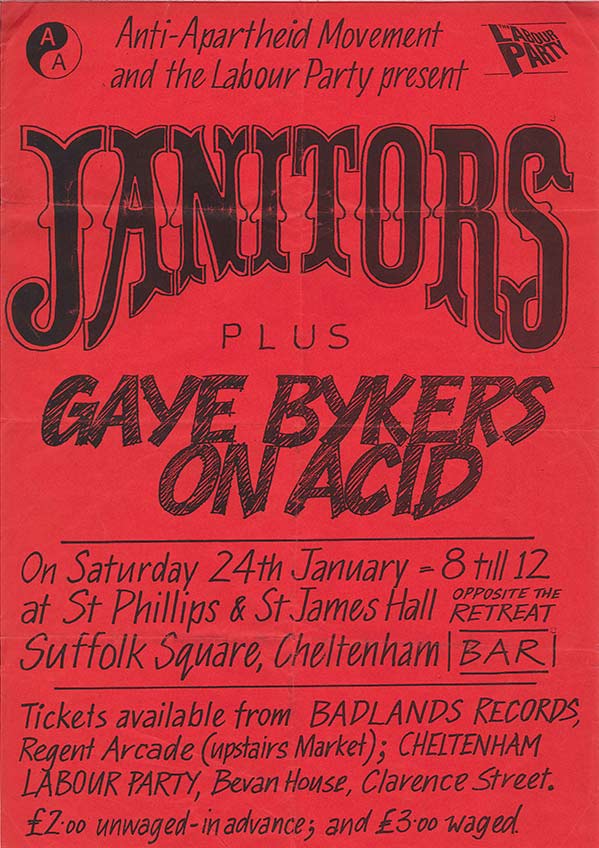 Mary Byker, ever the pretty boy, was putting on his best Iggy moves, pouting and sneering like there was no tomorrow, riling the crowd and coming across like some ADHD or Tourette's afflicted teenager with his impetuous nineteen to the dozen motor-mouthing. He certainly knew how to polarise an audience then, and those people whose jaws weren't dropping with dumbstruck incredulity were galvanised into action and "gitting on down" or showering the stage with beer — even the occasional chair made a trajectory in that direction too. Guitarist Tony Horsfall, resplendent in a huge, oversized foam cowboy hat, wrestled his guitar to produce a demented Hendrix-grappling-with-Ron-Asheton-stylee heavy fuzz distorted psychedelic wah guitar onslaught, whilst bassist Robber and drummer Kev Hyde thundered on and gamely dodged the plastic beer cups. Without wishing to do The Janitors a disservice, I don't think many of the shell-shocked audience stayed to see all their set afterwards. How the hell could anyone follow what we'd just witnessed anyway? Suitably shambolic, but equally mind-blowing and synapse-snapping displays of pure unbridled primal rock'n'roll energy like this came to exemplify the Bykers' live experience.
The above is an extract that appeared (in slightly different form) in the liner notes for A Big Bad Beautiful Noize (Live on Tour 1986-90), Gaye Bykers On Acid's first live album (Major League Productions Ltd, 2012).