Available now
right here!
Or, street date
general release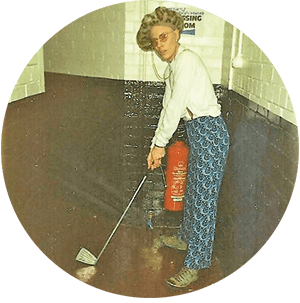 West Midlands 1980s, home to heavy metal. Black Sabbath and Judas Priest are household names, but over the smoking chimneys and factory yards something new and equally ugly forms…
'Grebo' was a media constructed music genre that even today sends a shudder down the spines of discerning music fans and critics. A homegrown proto-grunge — counterpart to the likes of Butthole Surfers, Mudhoney, early Nirvana, Alice In Chains, and Soundgarden in the US  — grebo was a British phenomenon that drew on an eclectic range of influences, from punk, 60s garage and psychedelia, through to 70s heavy rock and thrash metal. It foreshadowed rave culture and was steeped in class politics.
GAYE BYKERS ON ACID and CRAZYHEAD hailed from Leicester. They were not the first bands to be labelled grebo but they were the most unashamedly unkempt and came to be considered its greatest exponents. They were "a burst of dirty thunder" and almost no one liked them.
Based on interviews with band members, friends, fans, and roadies, this book is an uncompromising history of an overlooked music scene. Rich Deakin charts its course via the changing fortunes of the Bykers and Crazyhead, taking us on the booze-filled tour buses, behind the dodgy deals and onto the international stage and back again (with a pitstop for a rock movie that swallows lots of money). Their careers were short, but the two bands managed to shake up the UK indie scene and along the way became Britain's unlikely ambassadors of rock following the collapse of Soviet Russia.
Strap yourself in for a rocket ride of a book. This is GREBO! — the complete loud and lousy story!,
GREBO!
The Loud & Lousy Story of Gaye Bykers On Acid and Crazyhead​
Author: Rich Deakin
ISBN: 978-1-909394-79-7 (pbk)
ISBN: 978-1-909394-80-3 (ebk)
Street date: 7 October 2021
Category: Music
Size: 216mm x 140mm
Pages: 472pp
Illustrations: throughout
Exclusive to this website. The special hardback edition features the same content as the trade paperback edition, except that it is colour throughout and carries no ISBN, so is not available in shops or elsewhere. 
Richard Metzger
Dangerous Minds
Rich Deakin's sprawling, exhaustively researched and extremely engaging biography of the ever shifting n'er do well personnel of the bands variously known as The Social Deviants, then just The Deviants, and eventually The Pink Fairies. [On the author's previous book, Keep It Together!]
Gerry Ranson
Rock 'N' Reel
Rich Deakin's engaging text leaves this catalogue of self-destruction bare... An exhilarating account of an important historical period... the fact that Deakin has managed to solicit key contributions from all the key players tells a story in itself. Full marks to him for keeping the dream alive. [On the author's previous book, Keep It Together!]
Grahame Bent
Record Collector
Vividly captures the spirit of the times. [On the author's previous book, Keep It Together!]