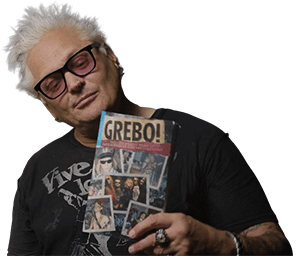 West Midlands 1980s, home to heavy metal. Black Sabbath and Judas Priest are household names, but over the smoking chimneys and factory yards something new and equally ugly forms…
'Grebo' was a media constructed music genre that even today sends a shudder down the spines of discerning music fans and critics. A homegrown proto-grunge — counterpart to the likes of Butthole Surfers, Mudhoney, early Nirvana, Alice In Chains, and Soundgarden in the US  — grebo was a British phenomenon that drew on an eclectic range of influences, from punk, 60s garage and psychedelia, through to 70s heavy rock and thrash metal. It foreshadowed rave culture and was steeped in class politics.
GAYE BYKERS ON ACID and CRAZYHEAD hailed from Leicester. They were not the first bands to be labelled grebo but they were the most unashamedly unkempt and came to be considered its greatest exponents. They were "a burst of dirty thunder" and almost no one liked them.
Based on interviews with band members, friends, fans, and roadies, this book is an uncompromising history of an overlooked music scene. Rich Deakin charts its course via the changing fortunes of the Bykers and Crazyhead, taking us on the booze-filled tour buses, behind the dodgy deals and onto the international stage and back again (with a pitstop for a rock movie that swallows lots of money). Their careers were short, but the two bands managed to shake up the UK indie scene and along the way became Britain's unlikely ambassadors of rock following the collapse of Soviet Russia.
Strap yourself in for a rocket ride of a book. This is GREBO! — the complete loud and lousy story!,
GREBO!
The Loud & Lousy Story of Gaye Bykers On Acid and Crazyhead​
Author: Rich Deakin
ISBN: 978-1-909394-79-7 (pbk)
ISBN: 978-1-909394-80-3 (ebk)
Street date: 7 October 2021
Category: Music
Size: 216mm x 140mm
Pages: 472pp
Illustrations: throughout
Exclusive to this website. The special hardback edition features the same content as the trade paperback edition, except that it is colour throughout and carries no ISBN, so is not available in shops or elsewhere. 
Mark Blake
Mojo
This deep-dive into the tale of Midlands standard-bearers GBOA and Crayhead is rich in pathos, humour and an awful lot of detail. ... Although Crazyhead played Russia and Nambia in 1991, world domination was never on the cards. But Deakin's account suggests it was great fun while it lasted.
Bruce Turnbull
Vive Le Rock
This book is an absolute treat for fans, but the way Deakin brings together all the elements of what birthed grebo into a genre is so fascinating, I found myself leafing through it at a reckless pace. Educational and compulsory. [9/10]
Dave Thompson
Goldmine
Grebo soundtracked the last traumatic term of Thatcherism with all the noise and uproar it deserved... Incident, anecdote and adventures pile Everest high... neither the excitement of the age, nor its frustrations, ever slip far from view, and if you're bored with reading about life in the studio, there's always going to be another riotous tour coming up.
Deakin doesn't take his subjects too seriously, but never stoops to regarding them as a joke, unlike the music journalists of the time whose scabrous reviews are quoted extensively. Told with passion and impressive inside knowledge, GREBO! is a cracking read that captures the times and the bands in all their grimy, grinning glory.
Grebo!'s amphetamine-paced pages sizzle with infectious energy. Central protagonists spew their unsavoury tales, and copious monochrome shots leer from almost every spread ... If your 80s were more defined by cider than Silvikrin, this could be your bible.
472 pages packed full of photos and prose ... Incredibly detailed ... as an insight to the indie music scene of the 1980s, the nefarious nature of the music press, which delighted in building up bands and then knocking them down, and a general romp of happy go lucky lads enjoying tours in foreign climes, it works.
Richard Metzger
Dangerous Minds
Rich Deakin's sprawling, exhaustively researched and extremely engaging biography of the ever shifting n'er do well personnel of the bands variously known as The Social Deviants, then just The Deviants, and eventually The Pink Fairies. [On the author's previous book, Keep It Together!]
Ben Graham
The Urban Spaceman Newsletter
These were the bands that put sex, drugs and rock n' roll back on the agenda in a period when indie music had become dangerously precious, po-faced and puritanical, and for an eighties teenager like myself, who wanted to know where the party was in those dire after-the-miner's strike days, they seemed like a much better bet than all the bedsit troubadours and half-arsed art merchants flopping around in the wake of The Smiths' sudden implosion.
Click image for sample pages