The Devil in Miss Jones Original Soundtrack Recording
Music composed by Alden Shuman
Piano — Frank Owens 
Arranged and conducted by Peter DeAngelis and Roy Straigis
Album produced by Alden and Earl Shuman
Chess/Janus Records 1973
Side A        
In the Beginning
Hellcat
I'm Comin' Home (theme from The Devil in Miss Jones)
Teacher
Ladies in Love
Side B
Love Lesson
Beauty and the Beast 
Walk with the Devil
Trio in the Round
Miss Jones Comes Home
At the End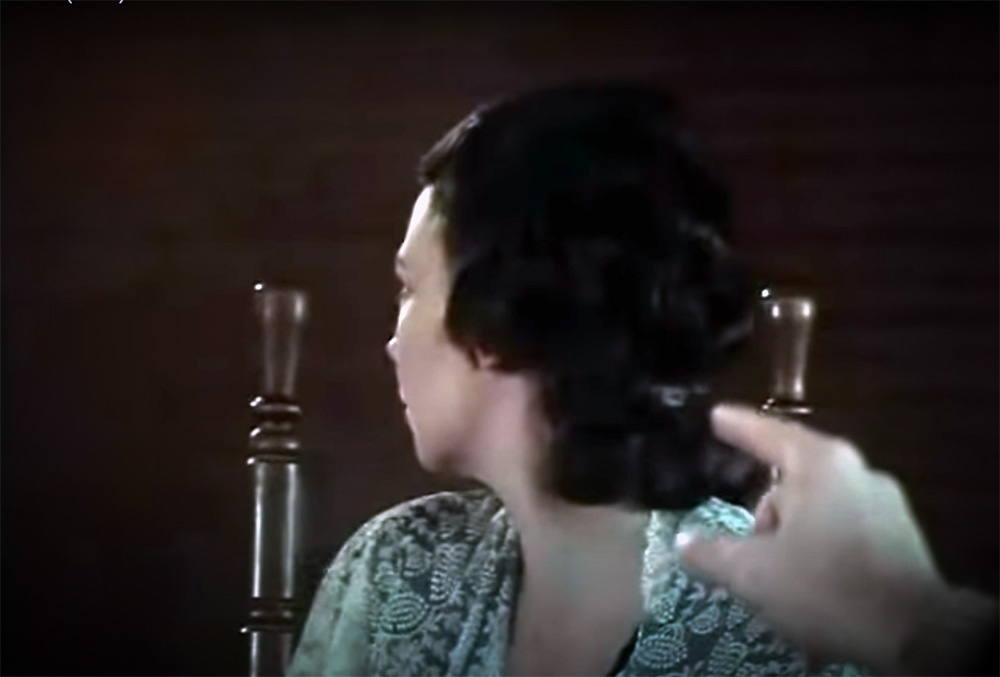 THIS YEAR MARKS the fiftieth anniversary of the release of Devil in Miss Jones (1973)[1], an unconventional hardcore adult feature film. To mark the occasion I wish to talk about its soundtrack, a mood piece in eleven parts, similarly unconventional as far as porn soundtracks go. Adult film directors in the early 1970s elevated the conventions of fucking with so-called porn chic and the freedom to pursue their own artistic visions. Yet Devil in Miss Jones,[2] directed by former x-ray technician and hairdresser, Gerard Damiano, is not like other breakthrough adult movies of the era, say the Mitchell brothers' Behind the Green Door (1972) or Damiano's own Deep Throat (1972). A sombre mood permeates the film, which it also does to some extent in those other films, but in Miss Jones melancholia is the driving force. The film opens with a suicide, that of the main character, Miss Jones (Georgina Spelvin), and follows her through a kind of purgatory as she engages in a variety of sexual acts, sex being something she never experienced in life and into which she now throws herself. The film ends with her confinement to a personal hell, a small room where sex is over, whose only other inhabitant (Damiano) barely acknowledges her presence, let alone shares her now consuming lust or exhibits any desire to satisfy her.
As noted, Devil in Miss Jones bucks a trend with values that one would not normally equate with the genre — intelligence, genuine acting, drama. The music, albeit overlooked by critics, is vital to its integrity: haunting, unexpected, with an underlying touch of menace. It was once described to me as "depressing music".[3]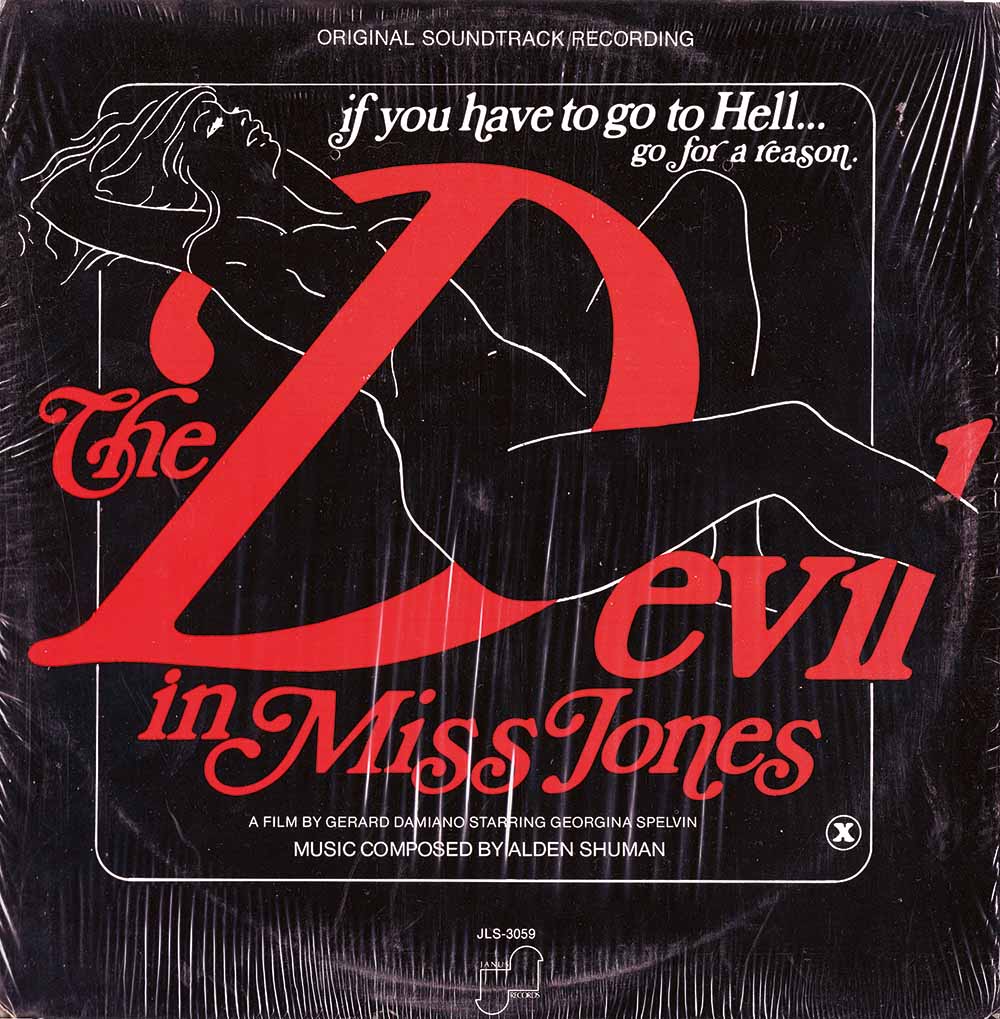 Composer Alden Shuman (1924–2002) had chart success in the 1950s and 1960s, writing songs for other artists with his brother, Earl Shuman. Some of these songs have been covered by Patsy Cline, Nat King Cole, Barbra Streisand and Ella Fitzgerald, among others. He also scored music for television and is credited with string arrangement on Meat Loaf's 1981 album, Dead Ringer. Devil in Miss Jones is his only film soundtrack and something of a diversion in his career — as it is 1970s porn music, more noted for its wah wah histrionics. Shuman and associated parties are no longer around to ask, but perhaps he got the gig via a series of arbitrary encounters, much like the film's unlikely star, 36-year-old Spelvin, who was initially hired as a caterer. In any case, I am not convinced Shuman had seen the film when he scored it or was necessarily cognisant of the fact it was a porn film he was working on. Damiano, who wrote as well as directed Miss Jones, seems to have been inspired by Jean Paul Sartre's No Exit, if not the play then a 1962 movie adaptation by Tad Danielewski,[4] and one can easily imagine the simple, temperate refrain that permeates Shuman's soundtrack to be a response to Damiano's brief on ontological matters as opposed to sexual ones. Shuman in turn looks to Trois Gymnopédies for his inspiration, a minimalist series of piano pieces by French composer and pianist Erik Satie, specifically the third and final part of the series published in 1888.[5] Like the film's title theme, I'm Comin' Home, Gymnopédies No 3 opens with a solitary two-chord refrain in 3–4 time, from which a melody emerges on a piquant note, Shuman and Satie the same.
Satie's instructions for the Gymnopédies was to play it "painfully".[6]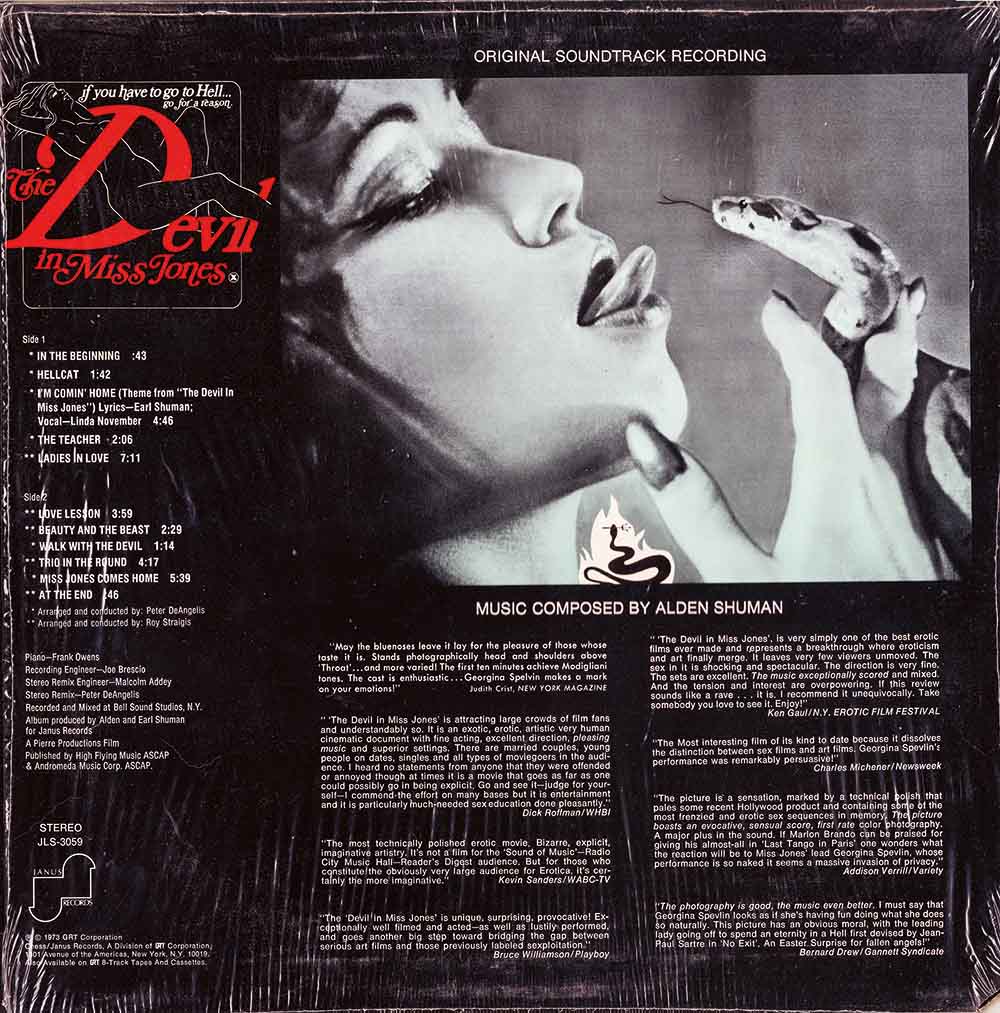 Linda November & Frank Owens
If you have listened to any part of the soundtrack for Devil in Miss Jones, you will be acquainted with its whole: there is no progression, and, given the exception below, each track dwells on this two-chord structure and melody. Again, this would seem in keeping with the existential symmetry of Jean Paul Sartre's play, where inhabitants of a single room go nowhere. The album was issued by Janus Records, who also released material by Al Stewart, Mungo Jerry, Funkadelic and many others, as well as a disco version of Tubular Bells.[7]
I'm Comin' Home (theme from The Devil in Miss Jones) is the only vocal track on the album. Lyrics are by Earl Shuman, and the title is possibly a jibe at Tommy James, formerly of Tommy James and the Shondells, whose 1971 solo album Christian of the World features songs about faith, one of which is called I'm Comin' Home. The vocalist on the Miss Jones track is Linda November, a noted singer of commercial jingles and back-up vocalist for the likes of Ray Charles, Frank Sinatra and Gloria Gaynor. She brings a fragile sort of confidence to the track. The perfect complement is pianist Frank Owens, another session musician. He worked with Petula Clark for many years, was musical director on the David Letterman TV Show in 1980, and can be found on albums by John Denver, Bob Dylan, and others.
The Teacher is perhaps the breeziest track with strings, horns, a wonderful wandering bassline, and a snazzy guitar. Ladies in Love is the one track that doesn't follow the main theme. The strings and tinkling piano recall Claude Debussy's piano piece Arabesque, which I find interesting because Debussy was a friend of Erik Satie who happened to have orchestrated Satie's Trois gymnopédies, the only time the composer orchestrated someone else's work. Trio in the Round is another track that alleviates the general sense of unease, although its melody conjures The Beatles' She's Leaving Home — which might not be a coincidence given that a 'return home' is implicit in two of the song titles on the album (I'm Comin' Home, Miss Jones Comes Home). Things are back on track with Love Lesson, where the main theme is performed on tubular bells before the gorgeous strings and piano take over — and then something happens beneath it all that puts me in mind of other devil pictures and the devil himself, perhaps because the devil's interval is lurking here, the Tritone said to have been banned in church music. Beauty and the Beast features the vibraslap, the wonderfully named percussion instrument that sounds like the murmurings of a rattlesnake, commonly used in 1970s television dramas as a tonal question mark.
In closing: Devil in Miss Jones might be considered an antithesis to the Christian-inspired rock musicals and flowerchild sentiment that proliferated in the early 1970s. Its music is deserving of better recognition.  
[1] The title on the print is simply Devil in Miss Jones. On the soundtrack album sleeve and advertisements it is The Devil in Miss Jones.
[2] Despite a similar title, Damiano's film has nothing to do with The Devil and Miss Jones, a 1941 romantic comedy directed by Sam Wood.
[3] I played the soundtrack as a pre-gig warm up for a local rock band, thinking it would be an interesting counterpoint. It made the audience angry.
[4]  Danielewski's film appears not to be available at present but a trailer suggests an atmosphere and design that Damiano sought to mimic.   https://www.youtube.com/watch?v=mdyOyRBM4Lw&t=12s%20 (accessed August 2, 2023)
[5] The first part is perhaps most familiar to British television viewers of a certain generation because of its association with a cigar commercial.
[6] https://musescore.com/classicman/satie-gymnopedie-no-1 (accessed August 4, 2023)
[7]  Tubular Bells (Discoversion), by The Champs' Boys Orchestra (7-inch, 1976).