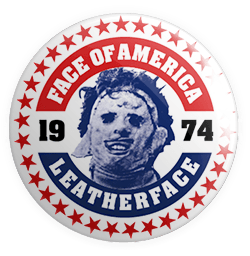 Tobe Hooper's The Texas Chain Saw Massacre premiered in October 1974, mere weeks after the resignation and pardon of Richard Nixon brought an uncertain end to the most corrupt and criminal presidency in American history. The film had been conceived, written, shot, edited, and produced precisely as Watergate was playing out, and those responsible for Chain Saw unhesitatingly spoke of the horrors of contemporary politics as having directly inspired the ones they created for the film.

Leatherface vs. Tricky Dick presents a fascinating minute-by-minute exploration of the many uncanny connections between The Texas Chain Saw Massacre and Watergate, as well as other ways the film comments on contemporary politics via satire and (very) dark humor. Read and discover Chain Saw's response to the White House horrors, the Saturday Night Massacre, and more, as well as how Leatherface's masks relate to all those Nixon masks worn throughout "our long national nightmare."
LEATHERFACE VS. TRICKY DICK
The Texas Chain Saw Massacre As Political Satire​
Author: Martin Harris
ISBN: 978-1-909394-81-0 (pbk)
ISBN: 978-1-909394-82-7 (ebk)
Street date: 9 August  2021
Category: Film/Politics
Size: 203mm x 127mm
Pages: 248
Illustrations: 93 x B&W stills
Other: Audiobook also available
Exclusive to this website. As the trade paperback edition except that the special edition hardback carries no ISBN and is in colour throughout. 
Amanda Reyes
madefortvmayhem.com
As a film historian and archivist, I have always felt cinema as a whole benefits from some sort of contextual framework. But OMG. Martin Harris' utterly brilliant Leatherface vs. Tricky Dick goes the whole nine yards — and then some — in an effort to explore how our everyday lived experiences inform the nightmares we pay money to watch in the theater. What a fascinating take on one of the most important films in the history of genre cinema.
Joseph Walsh
Actor, Tobe Hooper's Poltergeist
The grim dark tale of the horror movie The Texas Chain Saw Massacre has found its soulmate in the sordid presidency of Richard Milhous Nixon. In 'Leatherface vs. Tricky Dick,' author Martin Harris masterfully weaves both, getting us to wonder which was creepier. At any rate, one gets the feeling Tricky Dick would have been a seriously welcome addition to the ultra-sick Chainsaw family. If one is into looking back at unhinged history told in compelling prose, look no further than Mr. Harris's twin houses of horror. Yipes!!
Anthony Holden
Author of Big Deal, William Shakespeare: His Life and Work
A thorough, well-informed and highly entertaining exploration of the cultural riches bred by poker, explaining why the game remains so quintessentially American while growing ever more universal. (On the author's book, Poker & Pop Culture)
David G. Schwartz
Author Roll the Bones
Poker & Pop Culture is a monumentally readable, always engaging look at how poker has appeared in literature, TV, movies, and elsewhere. From John Wayne to William Shatner, Mississippi riverboats to online sites and everywhere in between, Harris covers it all. (On the author's book, Poker & Pop Culture)