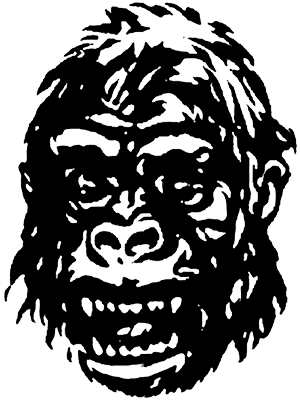 "So Many Bad Films… So Few Brain Cells…"
From low-budget horror films to grisly comic art, from lurid movie magazines to late-night creature features, from campy monster toys to exploitation poster art, Trashfiend takes a loving look at 'disposable' horror culture from the 1960s and 1970s.
Packed with reviews, trivia, rare illustrations, exhaustive technical information, and written with a humorous but insightful flair that is sure to engage both hardcore fans and the curious alike, author Scott Stine picks up where his self-published Trashfiend magazine left off for a fun, albeit critical look at an often overlooked genre that is considered trash!
Includes over a hundred reproductions of rare ad art, as well as vintage books, toys and magazines from the era, with eight pages of glorious, garish color.
Contents:
1. Up From the Depths • Preface
2. It's Only a Movie • Film Reviews
3. The Darker Side of Soul Cinema: The Creature Features of Black Cinema • Article
4. It's Only a Black Horror Movie • Film Reviews
5. The Ghouls Go West: The Horror Westerns of William Beaudine • Article
6. Billy the Kid Vs. Dracula (1965) & Jesse James Meets Frankenstein's Daughter (1965) • Film Reviews
7. Cal Bolder: The Boy Toy of Frankenstein's Daughter • Interview
8. Dredging Crater Lake with Richard Cardella • Interview
9. The Crater Lake Monster (1977) • Film Review
10. John Stanley's Nightmare in Blood • Interview
11. Nightmare in Blood (1975) • Film Review
12. Pat Boyette's Dungeons of Harrow • Article
13. Dungeon of Harrow (1962) • Film Review
14. Pat Boyette Selected Horror Comic Checklist (1966-1979) • Reference
15. The Mad, Mad, Mad Monsters of Rankin & Bass • Article
16. Mad Monster Party? (1967) & Mad, Mad, Mad Monsters (1972) • Film Reviews
17. Blood on the Canvas: The Art of the Belgian Window Card • Article
18. The Twisted Tales of Bruce Jones • Interview
19. Bruce Jones: Selected Horror Magazine Checklist (1968-1979) • Reference
20. Those Marvelous Monsters: A Look at Marvel Comics' Horror Magazines • Article
21. Marvel Monster Magazine Checklist (1964-1979) • Reference
22. Marvel Monster Magazine Artist & Writer Index (1964-1979) • Reference
23. Digesting The Haunt of Horror • Article
24. The Haunt of Horror Digest Index (1973) • Reference
25. Cut Down to Size: The Golden Age of Horror Digest Magazines • Article
26. Horror Fiction Digest Checklist (1960-1979) • Reference
27. Monsters on Parade: Shriek! The Monster Horror Magazine • Article
28. Shriek! Magazine Index (1965-1967) • Reference
29. Warren's Hastily Erected House of Horror • Article
30. Reel Monsters: Collecting 8mm Horror Films • Article
31. Wally Wood's Mars Attack! • Article
32. Mars Attacks! Trading Cards Checklist (1962) • Reference
33. Monsterabilia • Article
34. Sleepless in Seattle: Up All Night With Nightmare Theatre • Article
35. Keeping an Eye on the Count: Chuck Lindenberg, Camera One • Interview
36. Sweeping Up After the Count: Dave Drui, Floor Director • Interview
37. Sources
38. Acknowledgements
39. About the Author
"What a FANTASTIC read! It brought back so many wonderful horror memories ... truly marvelous'."
"Trashfiend is full of passionate, obsessive fetishism and unashamed nostalgia; the author's unquenchable enthusiasm for his material shines through in every sentence, evoking an intoxicating gore-feast for old and green hands alike."
"Scott Stine delivers ... an eclectic mix of movie reviews, interviews and overviews of various horror collector delights.. An essential addition to any genre fans book collection."