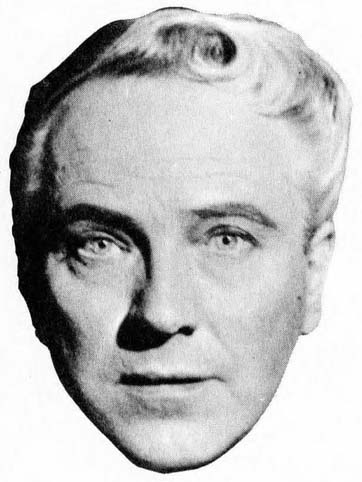 "We are all interested in the future for that is where you and I are going to spend the rest of our lives, whether we want to or not!"
Jeron Charles Criswell King, better known simply as Criswell, can rightfully be described as one of the first pop celebrity psychics. His bizarre predications — 87 per cent of which came true, he claimed — appeared from the 1950s through the 1970s in newspapers and magazines, while the flamboyant showman hosted his own Los Angeles television show, guested on national TV and in Ed Wood movies, including Plan 9 from Outer Space, alongside Vampira and Bela Lugosi. Unsuccessful attempts to find fame on Broadway and Tin Pan Alley did not prevent him from co-authoring three books on how to succeed in these fields.
A member of the hidden Hollywood gay community, the story of Criswell, his triumphs and defeats, is one of fame and hope.
FACT, FICTIONS, AND THE FORBIDDEN PREDICTIONS OF THE AMAZING CRISWELL is the first full-length biography of Criswell. It is the result of 20 years of research by number one fan, Edwin Canfield, and includes interviews, new information, and many startling predictions.
"The world as we know it will cease to exist on August 18, 1999!"
Book cover art by Mitch O'Connell, "the world's best artist";
Criswell's career touches many bases, from the occult, outsider artists, cult filmmaker Ed Wood and 'camp' stars  Vampira, Mae West, Bela Lugosi;
LGBT interest — Criswell was a married, closeted bisexual, and member of the hidden Hollywood gay community;
Includes many of Criswell's own predictions, from bed bugs in Boston, through global nudism and the end of the world in 1999;
Television has created an army of celebrities who are "famous for being famous" — Criswell has the dubious honour of being one of the first;
Criswell was fearless in putting himself in the line of ridicule;
Sheds light on the American dream and aspirations that most people share;
Criswell's story asks, explores, but cannot answer the eternal question: What is the true measure of success?
A willingness to "make things up", pass them off as the truth and proclaim himself a success, is 'fun' but may be considered the origins of harmful, unrestrained fake news and conspiracy theories;

Criswell is the antidote to the blurring of news and entertainment fiction in the late-twentieth century.
Title: FACT, FICTIONS, AND THE FORBIDDEN PREDICTIONS OF THE AMAZING CRISWELL
Author: Edwin Lee Canfield
ISBN: 978-1-915316-00-4
Street Date: February 2, 2023
Category: Celebrity, Film & TV
Retail Price: UK £22.99 / US $27.95
Binding: Paperback
Size: 216mm x 140mm
Pages: 396 
Illos: 84 B&W photos and ads
As the trade paperback, except the special hardback edition comes with an additional 12 colour plates and is printed on heavier paper.  
This special NO-ISBN hardback is exclusive to this website. Because it carries No ISBN number, this edition of the book is off the grid in as much as it doesn't appear on any database, in any library, cannot be ordered through mainstream bookshops or online retailers. 
"An unconventional biography and no doubt Criswell himself would be pleased [...] An accuracy check of Criswell's predictions is just one of the pleasures reading this highly-recommended book offers."
Hilary Wilson
The Folklore Podcast
"This biography is a true gem. Ed Canfield gives credit where it is due to the predictions that did come true, some of which were truly startling. He accentuates just how much Criswell was a showman ahead of his time, and a character with a professionalism and sharp insight that many to this day can still admire. Criswell predicted many things. I predict readers will enjoy this book."
Rod Lott
Flick Attack
"If you've never read a Criswell prediction — as bold and brazen as they are baffling — Fact, Fictions has plenty loaded in its chamber. Readers definitely get a full sense of his soothsaying showmanship … and wonder not only how anyone could take it seriously, but if it were all an act. You'll find the answers — and more! — in this thick 'n' quick read. For close to 400 pages, Canfield cannily celebrates Criswell's bullshit while pulverizing right through it."
Steve Puchalski
Shock Cinema
"Edwin Canfield has certainly done his research [...] This is a fascinating glimpse into a pioneering showman who laid the groundwork for far too many drab, third-rate copycats."
K. W. Jeter
cyberpunk and steampunk author
"For people who grew up in Los Angeles back when it was the old weird L.A., our imaginations were not just filled, but overfilled by The Amazing Criswell. In this obsessively researched chronicle, Canfield documents the atomic era's most fascinating charlatan. There should be a movie about Criswell, and not just Ed Wood, and this is the book the movie should be based on."
The Amazing Kreskin
mentalist and author
"I foresee that you will find it difficult to put down a book about a man who dared to predict on national television, while he sat next to Johnny Carson, that there would be an onslaught of 'bed bugs in Boston.' His public demeanor remained hilarious, flamboyant, and outrageous. I am so pleased that Ed Canfield has seen fit to share with us this colorful figure."
Warren Beath
author of The Death of James Dean
"Criswell is fortunate to have found his biographer in Ed Canfield. The result of years of research, the mysterious Criswell finally emerges in all his campy glory for the reader in this affectionate biography. Canfield's writing is snappy and entertaining. He makes Criswell live again. A rewarding and enjoyable read, a must-have for all fans of Ed Wood and the surreal."
Charles Coulombe
author, lecturer, theologian
"At last, one of 20th century America's greatest and most bizarre showmen gets his date in court. Criswell is known primarily for his association with such figures as Edward D. Wood, Jr. and Bela Lugosi; veteran writer Ed Canfield finally does justice to a man whose loyal fans included such stars of the Silver Screen as Mae West and Virginia O'Brien. He brings to a life a figure whom no one who knew can ever forget!"
Click Image For Sample Pages